WikiLeaks has dumped yet another batch of emails from the account of Hillary Clinton's beleaguered campaign chair, John Podesta. This is the 21st batch of messages to be published by the whistleblowing site.
The damage to Hillary Clinton's campaign can not be underestimated and there is still more to come. WikiLeaks have said there will be a total of 50,000 emails released in the lead up to the November 8 US presidential election. Friday's batch brings the total so far to 35,594.
In them, an email from leading US attorney Erika Rottenberg to Clinton staffers reveals that many US lawyers had serious doubts over the legality of Hillary Clinton using a private server for her emails, when she was the US Secretary of State.
In an exchange dating to June 2015, Rottenberg suggests that Clinton's actions are both suspicious and hypocritical.
"I know when I talk to my friends who are attorneys we are all struggling with what happened to the emails and aren't satisfied with answers to date.
© Photo : Wikileaks
One of the 'Podesta Emails' released by Wikileaks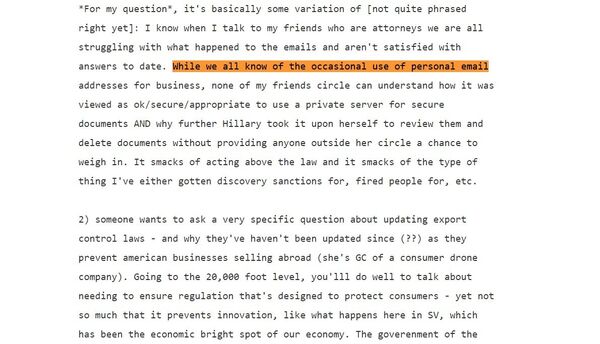 One of the 'Podesta Emails' released by Wikileaks
"While we all know of the occasional use of personal email addresses for business, none of my friends circle can understand how it was viewed as ok/secure/appropriate to use a private server for secure documents AND why further Hillary took it upon herself to review them and delete documents without providing anyone outside her circle a chance to weigh in."
Rottenberg goes on to imply that Clinton may be guilty of illegal activity.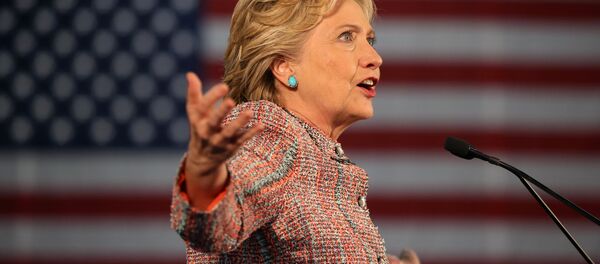 19 October 2016, 15:23 GMT
"It smacks of acting above the law and it smacks of the type of thing I've either gotten discovery sanctions for, fired people for."
Hillary Clinton has never been able to shake the specter of her emails scandal and while questions of legality, as well as of potential security breaches, remain unanswered, the debacle continues to wound her campaign's chances.
In an effort to redirect the US public's attention, other Clinton staffers urged their candidate to better pander to "dumb" millennials to get them "to fall in line."
In February 2016, marketing executive Wendy Bronfein told Clinton insiders that Bernie Sanders was appealing to young voters, and that Clinton needed to do so too.
"She may not be the best face of it so maybe it's trending figures to advocate for her b/c that's the crap that young people pay attention to. I hate to generalize a generation but by social media nature, they 'follow'. So if someone they identify as cool endorses — they will likely fall in line with that."
In a dismissive aside, she ended:
"Don't forget Bill had 'don't stop' campaign song, that was a pop culture play and had his Saxophone moments. It's f$*king dumb but being 'cool' counts for more than it maybe should."
The patronizing tone of such exchanges has enraged many voters, who have take to social media to protest.
© Photo : Wikileaks
One of the 'Podesta Emails' released by Wikileaks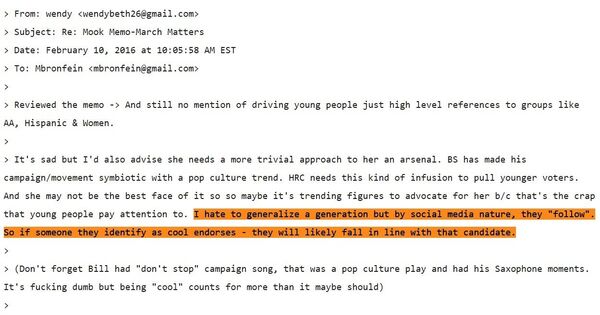 One of the 'Podesta Emails' released by Wikileaks
Earlier in January 2015, another campaign insider urged Clinton to pander to ethnic minorities.
Neera Tanden is a long standing Clinton insider, at the same time as being the president of the think tank, the Center for American Progress.
One email from Friday's WikiLeaks batch shows Tanden challenging Clinton's campaign chair, John Podesta himself.
© Photo : Wikileaks
One of the 'Podesta Emails' released by Wikileaks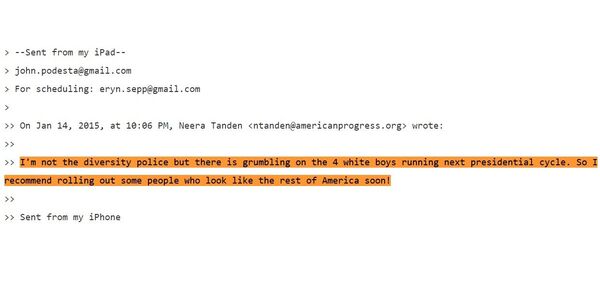 One of the 'Podesta Emails' released by Wikileaks
"I'm not the diversity police but there is grumbling on the 4 white boys running next presidential cycle. So I recommend rolling out some people who look like the rest of America soon!"
Podesta's response:
"Really, don't you think I know that?"
If only Podesta had known then that tens of thousands of his emails were soon to be hacked…