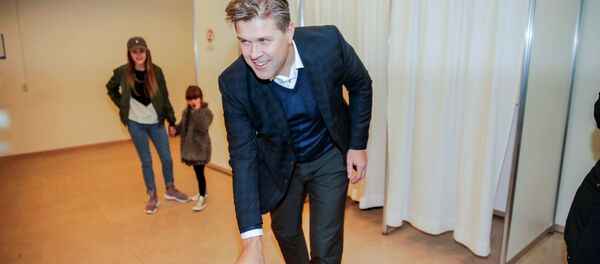 30 October 2016, 11:11 GMT
MOSCOW (Sputnik) – According to the Independent newspaper, as a result of the elections the numbers of parliamentary seats of Johannsson's center-right Progressive Party has halved.
Earlier in the day, Sigurdur Ingi Johannsson told local TV-channel that he would resign and return a mandate on forming the country's government to President Gudni Thorlacius Johannesson.
According to preliminary results of the Saturday parliamentary elections, the former ruling Progressive Party headed by Johannsson received only 11.5 percent, reflecting its loss of popularity after the release of the Panama Papers revealing corruption in Prime Minister Sigmundur David Gunnlaugsson's government.
The Independence party gained 29 percent of the votes. The party ended up first, but did not get an absolute majority, thus it would have to form a coalition with other parties to control not less than a half of the parliament.
The Left-Green Movement finished in the second place with 15.9 percent of the votes, while the Pirate Party is in the third place with 14.5 percent.
The final results of the elections that finished at 10:00 p.m. local time (10:00 GMT) on Saturday are not available yet, however 100 percent of the voted had already been counted.