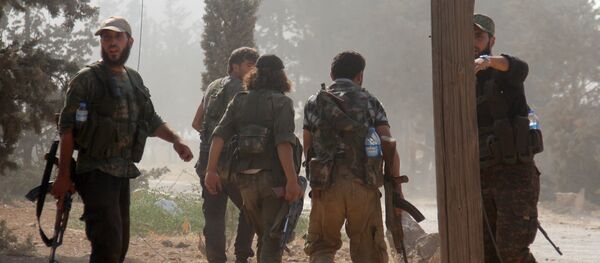 31 October 2016, 10:10 GMT
DAMASCUS (Sputnik)
–
Violence in the war-torn Syrian city of Aleppo could be ended within 10 days if the United States and the European Union end their practice of applying double standards to Syria and supporting militants in the country, Syrian Air Force Intelligence Directorate head Jamil Hassan told Sputnik on Monday.
"It is solely US and European double standards, which are the reason behind terrorist activity in Aleppo. If they stop financing [the militants] for 10 days in a row, the Aleppo problem will be resolved and the militants will take their weapons and depart to join their friends in Turkey," Hassan said.
The intelligence officer, who is also a close aide to Syrian President Bashar Assad, stressed that international politics should not determine the course of the battle for Aleppo and that the United States continued to back terrorists at the highest diplomatic levels.
"US support for terrorist organizations is unprecedented, it includes informational backing and the stirring up of conflicts in the UN Security Council," he said, accusing the West of keeping silent about militant bombardment of civilian areas in government-held western Aleppo.
Hassan was sanctioned by the European Union and the United States in 2011 over allegations of crimes against civilians and human rights abuses.
Syria has been in a state of civil war since 2011, with government forces fighting opposition groups who seek to overthrow Assad's government.
Over recent months, Aleppo has been a battlefield between government forces, jihadists, and numerous opposition groups. Militant-held eastern Aleppo is encircled by government forces and the fighting has affected thousands of civilians still trapped in the city.