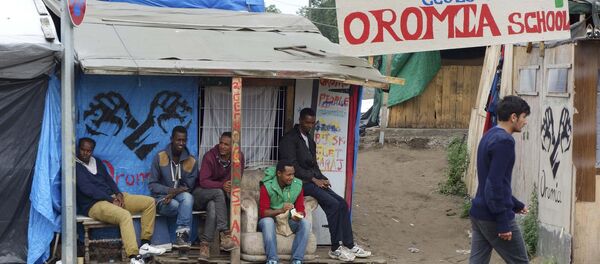 28 October 2016, 16:27 GMT
MOSCOW (Sputnik)
–
On the first day of the camp's demolition last Monday, authorities issued an administrative order, preventing those without official authorization from entering the camp. Authorization permits were received by journalists and government organizations, but were not given to human rights lawyers and representatives of non-governmental organizations, the Independent reported.
The order, which created an official "protected zone" on the territory of the refugee camp, was issued under the State of Emergency Act.
It is reported that lawyers representing various organizations are challenging the ban in court. According to them, the order violated "fundamental rights" of vulnerable individuals, who were denied access to legal information.
Since 2015, Calais has been the home to a large migrant camp, notorious for its horrible living conditions. Thousands of migrants have been trying to cross into the United Kingdom via the Channel Tunnel between Folkestone in Britain and Coquelles in Calais.
Last Monday, French authorities started to dismantle Calais camp, beginning with the relocation of migrants to other facilities across the country with some minors due to be sent to the United Kingdom. The completion of the dismantlement was announced in October 26. In total, more than 5,500 former residents of the camp have taken refuge in special accommodation centers across France.