On March 5 this year, Donna Brazile wrote an email to Clinton's campaign manager John Podesta and communications chief Jennifer Palmieri, titled: "One of the questions directed to HRC tomorrow is from a woman with a rash."
In the email Brazile tipped-off the Clinton campaign about an upcoming question to be asked during the next day's Democratic primary town hall debate in Flint, Michigan, a city that has suffered from a water contamination crisis.
© Photo : WikiLeaks
One of the 'Podesta Emails' released by WikiLeaks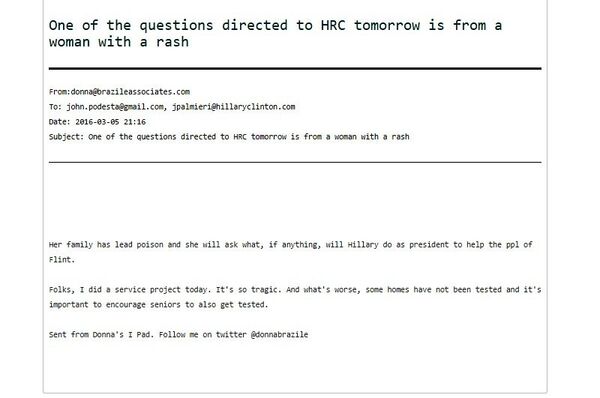 One of the 'Podesta Emails' released by WikiLeaks
"Her family has lead poison and she will ask what, if anything, will Hillary do as president to help the ppl (sic) of Flint. Folks, I did a service project today. It's so tragic," the email read.
"And what's worse, some homes have not been tested and it's important to encourage seniors to also get tested."
During the March 6 debate, which was co-hosted by CNN, Clinton was asked a question about the city's water crisis by Lee-Anne Walters, one of the earliest residents to have suffered the impacts of contamination.
"After my family, the city of Flint and the children in DC were poisoned by lead, will you make a personal promise to me right now that, as president, in your first 100 days in office, you will make it a requirement that all public water systems must remove all lead service lines throughout the entire United States, and notification made to the — the citizens that have said service lines," Walters asked.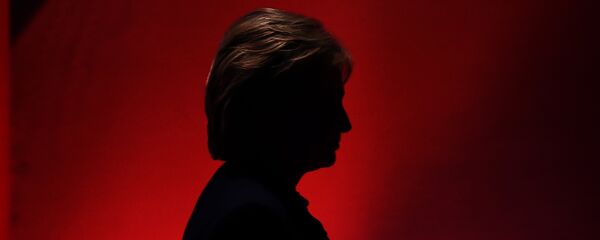 30 October 2016, 13:43 GMT
Clinton then responded by pledging an "absolute commitment to getting rid of lead" within five years.
Leaks Raise Questions Over Media Collusion
The email, released by WikiLeaks as part of the 24th batch of files hacked from Clinton campaign chairman John Podesta, raises more questions about potential collusion between DNC chairwoman Brazile, media figures and the Clinton campaign.
Brazile was earlier accused of using her media contacts to feed information to Clinton after a leaked email from March 12, 2016 featured a tip-off about a potential question to be asked in another town hall event on March 13.
© Photo : WikiLeaks
One of the 'Podesta Emails' released by WikiLeaks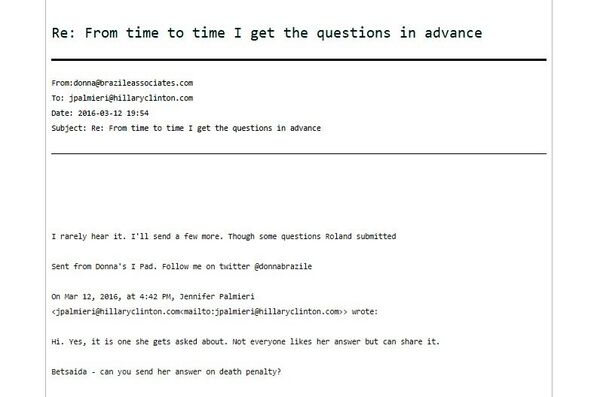 One of the 'Podesta Emails' released by WikiLeaks
The email, titled: "From time to time I get the questions in advance," informed Clinton about a potential question about capital punishment, with Brazile adding: "I'll send a few more. Though some questions Roland submitted."
"Roland" is thought to be TV One host Roland Martin, who co-moderated the March 13 town hall event.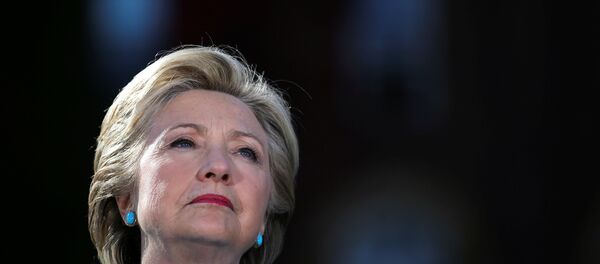 29 October 2016, 14:49 GMT
Despite the evidence, Brazile has not admitted to receiving the information and passing it on to the Clinton campaign.
Foreign Donations: 'We Need to Stop This From Spreading'
Other revelations included in the latest batch of Podesta leaks is the behind the scenes response of Clinton campaign members to a February 2015 Wall Street Journal report into foreign investment in the Clinton Foundation.
The leaks showed how members of the Democratic candidate's campaign sought to ascertain how much funding had been contributed to the Foundation from the foreign governments of Saudi Arabia, the UAE, Australia, Germany and a Canadian government agency promoting the Keystone XL energy pipeline project.
© Photo : WikiLeaks
One of the 'Podesta Emails' released by WikiLeaks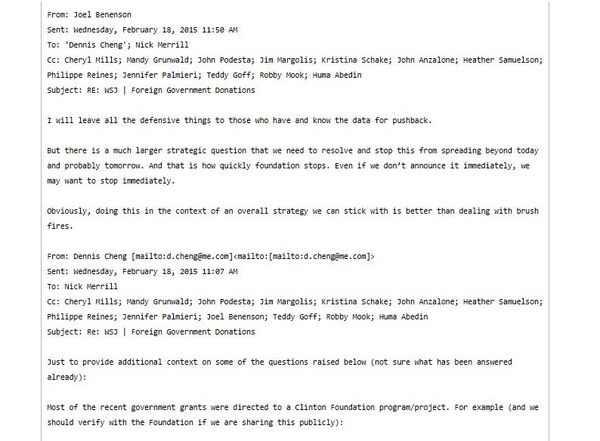 One of the 'Podesta Emails' released by WikiLeaks
"I will leave all the defensive things to those who have and know the data for pushback," Joel Benenson, chief strategist for Clinton's campaign, wrote on February 18, 2015 as part of the email exchange.
"But there is a much larger strategic question that we need to resolve and stop this from spreading beyond today and probably tomorrow."