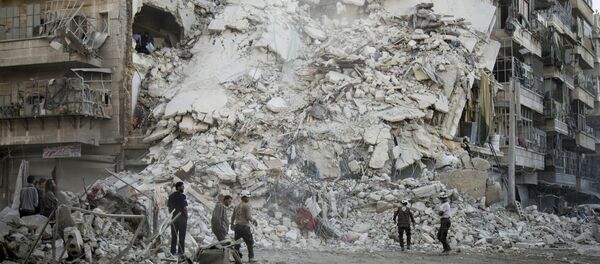 31 October 2016, 20:21 GMT
MOSCOW (Sputnik) – "The terrorist organizations have exploited the pause duration through using chemical materials on October 30th when they launched shells of chlorine gas on 1070 apartments region and the residential neighborhood of Hamadaniyah in Aleppo, causing 48 suffocation cases among civilians and military men," the letters said, as quoted by the SANA news agency.
The ministry noted that during last three days militants from eastern Aleppo fired more than 50 Grad shells and 30 gas cylinders leaving 84 people killed and 280 injured.
"The government of Syrian Arab republic has formed an inquiry team to investigate into the crime of launching the poisonous gases according to international standards," the Foreign Ministry said.
The letters also accused the western countries of launching information campaign against the Syrian government and defending the crimes perpetrated by radical groups.
"Syria, while condemns the use of chemical weapons by any side, affirms that the unjust campaign launched by western countries against Syria should be directed to the terrorist organizations," the letters said.
On October 30, militants shelled the al-Hamdaniya and al-Assad neighborhoods of western Aleppo using homemade shells with chemical substances, according to Syria's state news agency SANA.
The Command of the Syrian Armed Forces said the shells contained chlorine gas.