MOSCOW (Sputnik) — Deliberate use of civilians as human shields by Daesh militants in the Iraqi city of Mosul, as well as taking hostages and conducting the displacement of persons are considered war crimes, Ravina Shamdasani, a spokeswoman for the UN High Commissioner for Human Rights said Tuesday.
"Using civilians as human shields is a war crime. Under article 8(2)(c) of the Rome Statute of the International Criminal Court, taking of hostages in a non-international armed conflict is a war crime, and under Article 8(2)(e)(viii), ordering the displacement of civilians for reasons not connected with their security or imperative military reasons is also a war crime," Shamdasani said at a press briefing.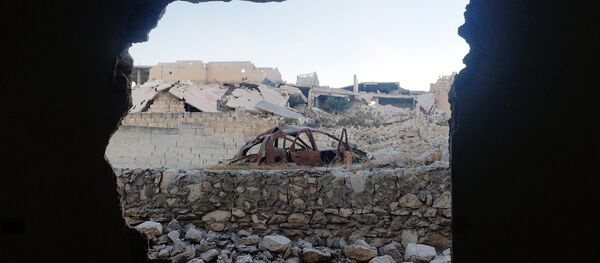 1 November 2016, 13:16 GMT
She also urged parties to the conflict to avoid the loss of lives and noted that mass killings by Daesh militants in Mosul were continuing following the start of a military operation aimed at liberating the city.
Iraqi Prime Minister Haider Abadi announced on October 17 the start of a military operation to retake Mosul from Daesh. According to local media, about 30,000 Iraqi soldiers and 4,000 Kurdish Peshmerga fighters are taking part in the operation, backed by airstrikes carried out by the US-led international coalition.
Iraq, along with neighboring Syria, has been suffering from the advance of Daesh, which is outlawed in Russia and the United States as well as in many other countries. The radical group has become notorious for its brutal acts of terrorism and human rights atrocities.