Police arrived at the 111-year-old church after 11:00 PM local time Tuesday night. The inside of the church showed clear signs of being burned with deep black marks stretching from the windows. The words "Vote Trump" were spray painted in white on the side of the building. It took emergency responders nearly an hour to extinguish the flames.
"We're very cautious in this climate, in this day and time, to make sure we're very deliberate in investigating matters like this," Greenville mayor Errick Simmons said, according to the Atlantic. He called the fire a "direct assault on people's right to free worship," and later said that, "I see this as an attack on the black church and the black community."
Although Greenville's population is almost 80% African-American, Simmons said there have been racially motivated incidents occurring lately, including a boat with a racial slur painted on it that was found by officials in November. Despite this, the mayor says there is "a concerted, intentional effort for racial reconciliation among the races" in the city.
© AP Photo / Rogelio V. Solis
Hopewell Missionary Baptist Church Greenville, Mississippi burned and vandalized with pro-Trump message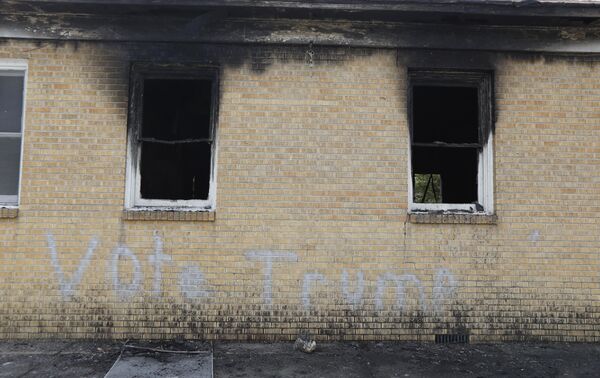 Hopewell Missionary Baptist Church Greenville, Mississippi burned and vandalized with pro-Trump message
At a Wednesday news conference Greenville Police Chief Freddie Cannon called the damage "a form of voting intimidation." There was substantial smoke, fire and water damage, particularly to the kitchen and pastor's study. Authorities have not yet identified a suspect, though they have been in contact with a person of interest.
"Our hearts are broken, but we are not angry," said Rev. Carolyn Hudson, pastor of the 200-member church. The minister told the Clarion Ledger that the congregation is "saddened, but we do know that all things work together for good to those that love the Lord."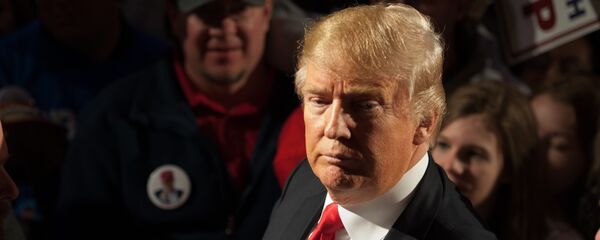 14 October 2016, 23:35 GMT
The FBI, along with the Bureau of Alcohol, Tobacco and Firearms are helping local authorities with the investigation.
Brett Carr from the Jackson Division of the FBI released a statement saying the office "is aware of the situation in Greenville, and we are working with our local, state and federal law enforcement partners to determine if any civil rights crimes were committed."
A GoFundMe campaign asking for $10,000 to help repair the church has already surpassed $30,000.