WASHINGTON (Sputnik) — The Federal Bureau of Investigation is trying to keep the revelations in Anthony Weiner's giant stash of 650,000 emails secret from the American public to prevent Hillary Clinton from losing the US presidential election next Tuesday, leading antiwar activist Cindy Sheehan told Sputnik.
"If the general public got wind of these revelations, then maybe the people would demand change and accountability and Clinton would most likely be defeated on November 8," Sheehan, a Gold Star mother whose son was killed in the 2004 war in Iraq, said on Wednesday.
The FBI is investigating a stash of 650,000 emails, some of which are related to Clinton's tenure as secretary of state from 2009 to 2013, found on the private laptop of former US Congressman Anthony Weiner while he was being investigated for sending sex texts to a 15-year-old girl.
Weiner is the estranged husband of Clinton's long-time top aide Huma Abedin, who is widely expected to serve as her White House chief of staff if Clinton wins the US presidential election on November 8.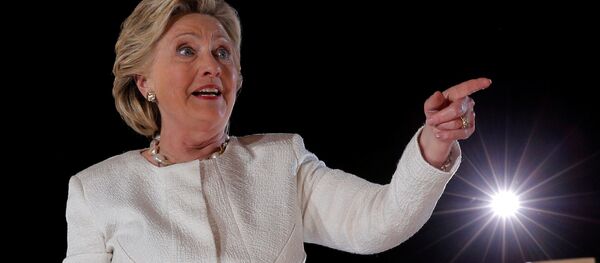 2 November 2016, 17:34 GMT
Sheehan observed that the huge email cache is also likely to document many super-secret US government activities that the country's leaders are determined to keep from the eyes of their own people.
"The FBI is reluctant to share its findings on the newest scandal of Clinton emails with the public or outside agencies because it is a part of the super secretive US government," Sheehan said.
The discovery of the emails and the massive efforts underway to prevent the US public reading them revealed the political culture of cover-up and secrecy that was the reality behind claims of US democracy, Sheehan stated.
"The United States is supposedly a democracy 'by and for the people,' but this scandal highlights the fact that it is a political oligarchy that protects itself and its power," Sheehan maintained.
Government insiders and powerful figures in the business oligarchy that truly dominated the United States feared they would be embarrassed by many revelations from the huge cache of emails, now known as 'Weinergate,' Sheehan pointed out.
Sheehan's son, US Army Specialist Casey, served in the First Cavalry Division and was killed in action on April 4, 2004. Sheehan was abandoned by the US Democratic Party when she publicly and constantly opposed the war in Iraq. Sheehan currently hosts a radio show she began in 2009.