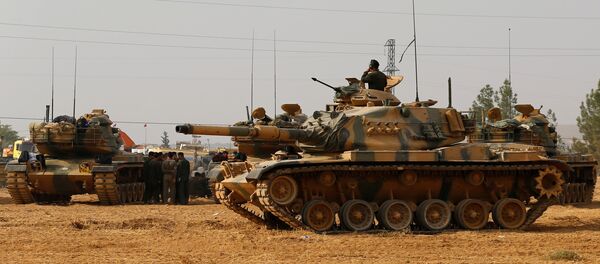 2 November 2016, 18:51 GMT
Baghdad (Sputnik) — The Iraqi government has no knowledge of any recent withdrawal of Turkish troops from the Bashiqa camp in northern Iraq,  Iraqi Prime Minister Haydar Abadi's spokesman told Sputnik on Thursday.
"I have not been informed about such a measure or whether the Turkish troops have simply moved to relocate somewhere else, which would mean that Turkey will continue breaching Iraq's sovereignty and interfering in its affairs," Saad Hadithi said.
Hadithi's comments come in response to remarks made by Turkish government spokesman Numan Kurtulmus who said Wednesday that the Turkish troops were not withdrawing from the Basheqa camp as a result of anyone's recommendation, adding that the camp would be relocated somewhere else.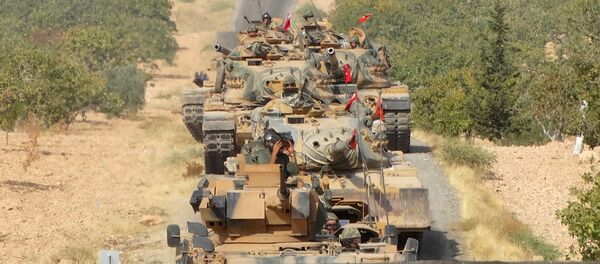 2 November 2016, 13:30 GMT
The bilateral tensions between the two countries have worsened after the Turkish parliament in October extended a mandate allowing Turkish troops to be deployed in Iraq and Syria to combat terrorists for an additional year.
Following this step, the Iraqi parliament adopted a resolution voicing protest against Turkish military presence in the Bashiqa camp in northern Iraq, located about 19 miles northeast of Mosul. The lawmakers demand its government take the necessary legal and diplomatic measures, including a review of the economic relations between the two countries. Ankara has condemned the resolution.
On October 17, Iraqi Prime Minister Haider Abadi announced the start of the operation to retake Mosul from the Daesh, which is outlawed in many countries worldwide, including Russia. The offensive is backed by airstrikes by the US-led international coalition.