MOSCOW (Sputnik) — According to media reports, Iraqi troops entered Mosul through the Karama district on Monday, just two weeks after the operation to liberate the city was launched.
"Anti-terrorist units liberated today the districts of Malayeen, Samah, Khadra, Karkukli, Quds and Karama in the east of the city of Mosul," Lt. Gen. Abdul Amir Yarallah said in a statement, as quoted by Alsumaria broadcaster.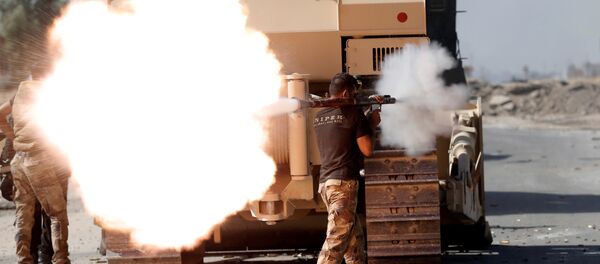 3 November 2016, 18:31 GMT
According to the statement, the forces raised the Iraqi flag over buildings in the liberated districts.
On October 17, Iraqi Prime Minister Haider Abadi announced the start of a military operation to recapture Mosul from Daesh with the help of airstrikes by the US-led international coalition. According to media reports, about 30,000 Iraqi soldiers and 4,000 Kurdish Peshmerga fighters were initially taking part in the operation.