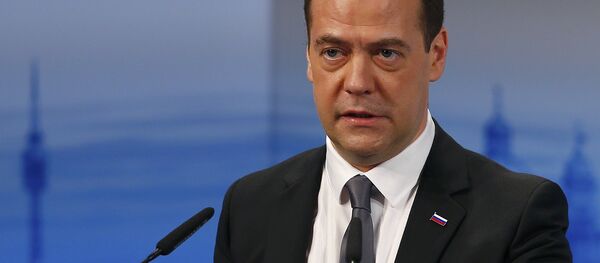 4 November 2016, 22:05 GMT
MOSCOW (Sputnik) – "This year, overall, the numbers have been improving … I am certain that if we continue along this path, we will be capable of reaching a level of $200 billion by 2020," Medvedev predicted.
The Russian prime minister recalled that during the global economic crisis of 2008-2009, trade between Russia and China decreased by a third, but later recovered, reaching a peak level in 2014.
"The situation in the world economy and in our national economies is changing. Just 10 years ago, maybe a little less, we were setting an objective of reaching a threshold of a $100-billion trade turnover. We basically reached that threshold by 2014," Medvedev said.
Russia and China have reenergized their cooperation in recent years, both on a bilateral level and within the framework of regional and global organizations.
Both countries are members of the BRICS association of five emerging economies — Brazil, Russia, India, China and South Africa, and co-founders of the Shanghai Cooperation Organization (SCO), a Eurasian economic and security bloc.