Lichtman used a certain methodology of pattern recognition at eight American presidential elections over last 30 years. It is also worth mentioning that Professor Lichtman has been correct in his predictions for all this period of time.
The expert relies on a system of 13 keys, which are basic true or false statements describing the pre-electoral political context. They include such factors as "long- and short-term economy, third parties, foreign policy values and successes" and other things.
If at least six of them are false, he says, the incumbent party is set to lose the Oval Office — and this year, the tide is turning against Democrats.
"If six or more of the thirteen keys are turned against the party in power…the party in power, the party holding the White House, is a predicted loser," Lichtman told Sputnik.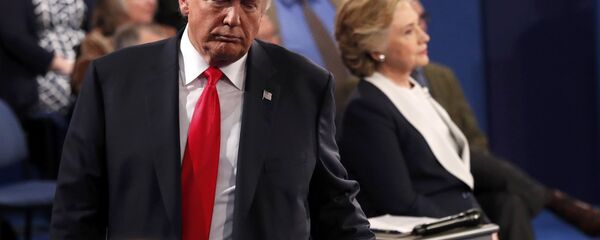 4 November 2016, 17:15 GMT
However, while the Republicans "should be winning the election" this year, Donald Trump could still end up being defeated by his own controversial character, Lichtmann told Sputnik.
"Donald Trump is a candidate with no record of public service, of any kind. He just enriched himself at the expense of others" and "he is the only candidate ever" in US history who "is so far out of the box," the expert said.
"So many Americans think that he is not set to be President that he could well break the patterns of history. This is what makes this election the most puzzling election in modern times in America," Lichtman stated.
Replying to the question of whether the fact that people in America are not excited about any of the candidates would affect the turnout, Lichtman said that "it doesn't seem to be the case."
"We already have a pretty good handle on it [voters' turnout] because over 30 million votes have already been cast. Many states have early voting, and so far the early voting turnout has been excellent. […]It could change obviously when they would go to the polls. And this election — because you have these two contenting forces — could well depend on which side is better in getting its voters out," Lichtman concluded.