"We know that after the refugee deal with Turkey, the EU [has chosen to make] similar deals with other countries like Afghanistan giving aid money in exchange for the return of failed asylum seekers. The aim of this deal … is to deport an unlimited number of Afghan asylum seekers," she explained. "Both sides will also consider building a terminal dedicated to deportation flights" at Hamid Karzai International Airport.
The analyst mentioned three reasons why the agreement, formally known as the EU-Afghanistan Joint Way Forward (JWF) on migration issues, will have grave implications for deported refugees. They have to do with lack of capabilities, ongoing war and sectarian violence, as well as corruption.
The first is linked to Valentini's concern that Afghan authorities are incapable of helping those, who have been denied asylum in the EU.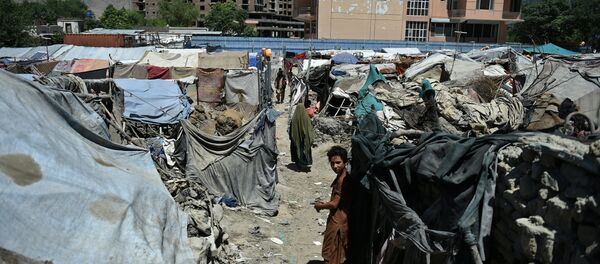 6 November 2016, 14:41 GMT
"This deal is a disaster on the humanitarian level. The Afghan government is not able to take care of [the more than 1] million of internally displaced people. How could it take care of the thousands of [deported asylum seekers]?" she asked.
Valentini mentioned that some of the people deported from the EU and Australia back to Afghanistan have been killed. "Afghanistan is a very dangerous country despite what the EU says," she noted.
The analyst further mentioned Afghanistan's challenging security situation, citing internally displaced people as an example. According to Amnesty International estimates, there are currently some 1.2 million people who have been forced to relocate due to internal violence and conflicts.
"This number is so high because more than 40 percent of the country is currently a warzone or is under control of the Taliban or other terrorist groups. This is situation in regions like Kunduz, Baghlan, Faryab or Helmand," she said. Some internally displaced people have been forced to live in camps, while "others are fleeing their war-torn villages to reach other cities."
According to Valentini, conditions in camps are "so harsh" that last year several children, who were living at a camp in Kabul, "died from cold."
Finally, the political analyst explained why international efforts to help Afghanistan recover from the war have failed.
"There have been many projects to rebuild Afghanistan" in recent years, she said, adding that the US and Europe have provided billions of dollars in international aid. "It has been estimated that Afghanistan cost more to rebuild than Europe after World War II with the difference that Afghanistan has not been rebuilt at all. Endemic corruption makes all these efforts useless."
Valentini mentioned that there is still no electricity in some areas of Kabul, the capital. Discrimination against women and ethnic minorities is explicit. A third of Afghan servicemen have left the army, due to "nepotism, corruption and anger against the government that is partially supporting the Taliban," she noted.
The analyst maintained that the government has not made steps to address the root of the problem.