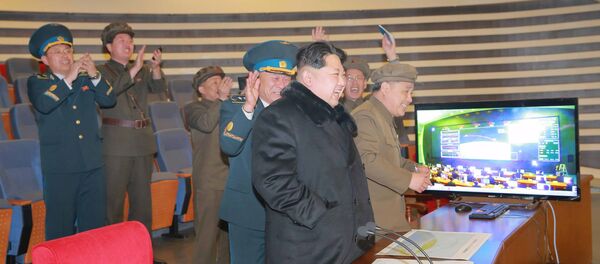 26 October 2016, 19:00 GMT
Amid the ongoing scandal over South Korean President Park Geun-hye's "shadow adviser," members of both the Saenuri ruling party and opposition parties proposed to expand the authorities  of the South Korean Parliament.
The proposal came at a sensitive time as public support for the government has hit a new record low due to its inability to deal properly with the domestic and global situation, including the North Korean nuclear problem and the deployment of American THAAD missile defenses to South Korea.
Chung Dong-young, a National Assembly lawmaker from the People's Party, said that South Korean lawmakers are considering resuming the talks on the North Korean nuclear program.
"After the presidential election in the United States, a group of interested lawmakers, including me, will meet with American politicians to discuss the reconciliation on the Korean Peninsula and East Asia. Moreover, we want to resume at the parliamentarian level the six-way negotiations on the North Korean nuclear problem," Chung told Sputnik Korea.
The six-party talks on Pyongyang's nuclear program involve South Korea, North Korea, the US, China, Japan and Russia. The talks were a result of Pyongyang withdrawing from the Nuclear Non-Proliferation Treaty in 2003.

11 October 2016, 11:21 GMT
In 2004-2006, Chung served as the head of the South Korean Ministry of Unification. Recently, the lawmaker established an informal parliament group for foreign affairs, the so-called "parliamentarian diplomatic corps for peace and cooperation in Northeast Asia."
The group is expected to visit the US on November 13-18. Chung expressed hope that the upcoming talks would "give a fresh impetus" to peace strengthening efforts in the Korean Peninsula.
Then, the South Korean lawmakers plan to visit China and Russia. They want to hold talks with the Permanent Committee of the Chinese Communist Party and the Russian State Duma Committee for Foreign Affairs on six-way negotiations at the parliamentarian level.
"The Cold War is over, but hatred and hostility are mounting on the Korean Peninsula. Tensions over the North Korean nuclear program and THAAD deployment are deepening. We should get back to the spirit of the September 19, 2005 agreement, according to which North Korea commits abandoning the nuclear program and the sign a peaceful agreement," Chung said.
On September 19, 2005, a Beijing round of the six-way negotiations on the North Korean nuclear program resulted in a Joint Statement.
"At the time, representatives of all six parties expressed support for this declaration," the lawmaker said.