WASHINGTON (Sputnik) — The allegations of Russia's involvement in the US electoral process are the lies circulated by Democratic nominee Hillary Clinton, former US congressman and two-time candidate for the Democratic presidential nomination Dennis Kucinich told Sputnik.
"There has been a proliferation of lies about Russia's involvement in the United States' election and they have been propagated by people as illustrious as Hillary Clinton herself," Kucinich said.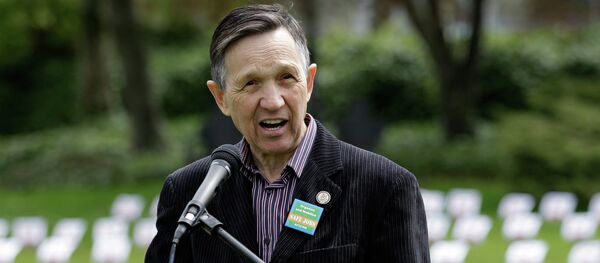 8 November 2016, 00:22 GMT
Kucinich noted that Clinton claimed in a presidential debate that 17 US intelligence agencies agreed Russia was hacking and trying to interfere in the US election. "[B]ut there is no evidence of that; the effort to engender Russia-phobia and dislike Russia is real."
Speaking during the final presidential debate in October, Clinton accused the Russian government of allegedly carrying out cyberattacks to influence the US elections.
In October, US intelligence officials claimed they were confident the Russian government had directed recent compromises of US political organizations.
The Russian foreign ministry have denied any interference in the US election and called such accusations absurd and ungrounded.