Organized by the UK's 'Stand Up To Racism' group, speakers in attendance detailed that the demonstration was a direct response to the negative rhetoric Trump expressed during his contested presidential bid against Hillary Clinton.
​"It's vital that people come together and oppose the politics that 'The Donald' Trump endorses. The politics of racism and division that he has represented throughout his long campaign. We must stand in the traditions of the Martin Luther King Civil Rights movement and begin the anti-racist fight back. In Britain a new anti-racist movement is being revived and now is an important time to make ourselves heard," Weyman Bennet, a 'Stand Up To Racism' co-organizer, told Sputnik
​
After the election results became global news, a Facebook page was initiated to promote the demonstration taking place in Mayfair's Grosvenor Square later the same evening. Hundreds of people attended, mostly from within London, but some from as far as northern parts of the UK, to show their disapproval of Trump as the new US Commander-in-Chief:
"Some of my friends couldn't make it because they couldn't afford the train journey from Liverpool which is where I've traveled from. I just had to be here to show my support against the kind of racism, misogyny and hatred Trump represents. The fact that he managed to win and becomes the next US President either shows how he has managed to fool everyone, or how hated Hillary Clinton may have been," one demonstrator told Sputnik.
Attendees spoke about how Trump uses fear and prejudice against minority communities as a tool to gain support. Trump was also described as having exploited issues of the importance for the electorate in a highly manipulating manner to gain votes.
© Sputnik / Vin Sharma
Anti-Trump Anti-Racism Protests in London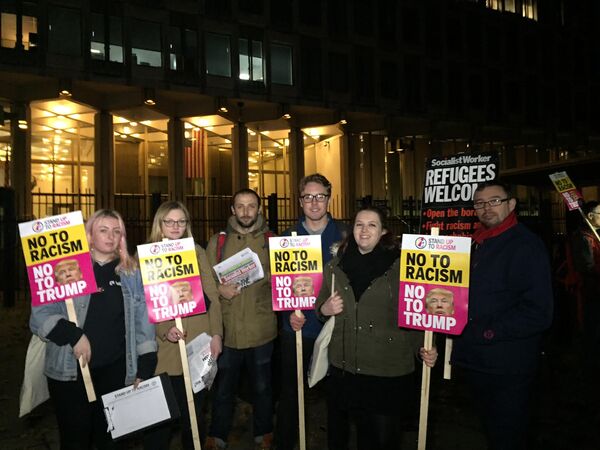 Anti-Trump Anti-Racism Protests in London
The newly-elected world leader has famously promised extreme immigration plans, including building a wall between the US and Mexico, and has often conveyed highly offensive remarks. He has said "laziness is a trait in blacks," and described Mexican immigrants as predominantly "criminals" and "rapists," and even condoned the beating of a Black Lives Matter activist at one of his rallies.
"People in the US are fed up," said one of the protesters, who traveled from East London to attend the event.
"They are clearly tired of the establishment, and fed up with typical politicians who don't say what they mean or do a good job for society. That is the only reason I can think of as to why someone like Trump could win. But if the UK can get Brexit, which was supported by the likes of Nigel Farage, then anything can happen."
© Sputnik / Vin Sharma
Anti-Trump anti-racism protest outside the US Embassy in London, November 9, 2016.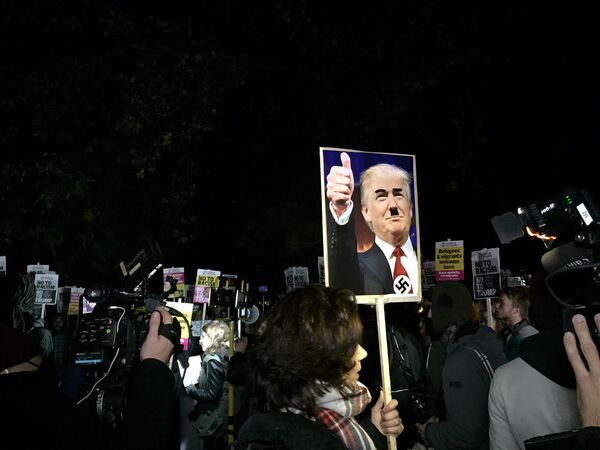 Anti-Trump anti-racism protest outside the US Embassy in London, November 9, 2016.
During the demonstration there was an unexpected public outburst by a demonstrator who described himself as an English Defence League (EDL) supporter, a right-wing political organization based in the UK.
"I'm a supporter of EDL and I have traveled all the way from Leamington Spa in UK to say that we support Trump because he is representing the issues of white people. And I want to say that refugees are not welcome to this country because they are scrounging criminals," he shouted at reporters and the anti-racist demonstrators.
​Before being arrested by police during an ensuing scuffle, he shouted: "White lives matter, too!"
Speakers from the 'Stand Up To Racism' group conveyed the importance of continuing a collective response against the Trump victory, and a number of public demonstrations are expected to take place in London over the coming weeks and months. Crowds chanted slogans such as "Black Lives Matter," and "Stand up to Racism," as well as shouting in unison, "We Say No To Trump!"
© Sputnik / Vin Sharma
Anti-Racist Anti-Trump Protest in London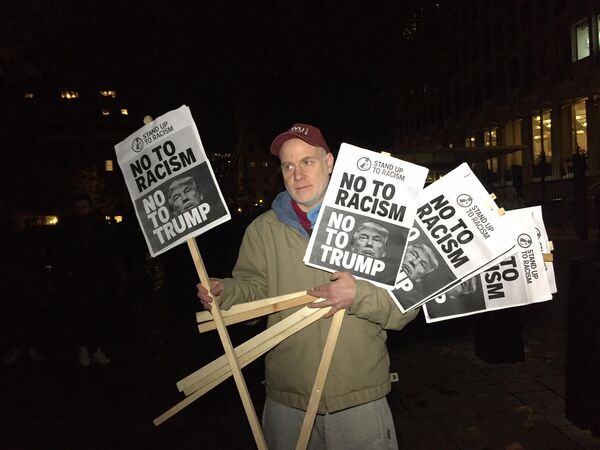 Anti-Racist Anti-Trump Protest in London
Despite the fact that Trump won an apparently legitimate and democratic election, and will now take on the role as the 45th President of the United States, it is likely that he will face a mixed global response during the early stages of his tenure, and, depending upon his early policy moves, for some time ahead as well.