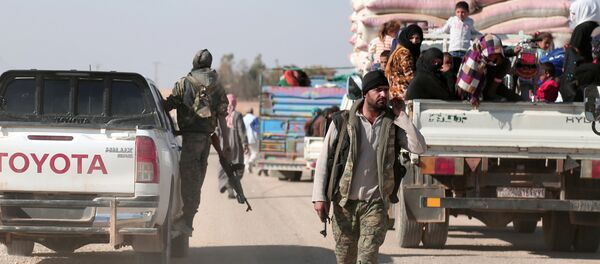 10 November 2016, 08:20 GMT
On Tuesday, Turkey said that the US-backed and Kurdish-led Syrian Defense Forces (SDF) leading an assault on the Daesh (ISS, Islamic State) stronghold of Raqqa should not enter the city itself but merely help encircle it.
The suggestion was dismissed by the Kurds, according to the Associated Press.
Turkish Foreign Minister Mevlut Cavusoglu told reporters that the US Chairman of the Joint Chiefs of Staff, Gen. Joseph Dunford, told Turkish officials during a recent visit that Kurdish-led forces would only have a role in encircling Raqqa and would not enter the city itself.
However Turkish retired Brigadier General, Foreign Affairs Advisor to the Turkish Retired Officers Association (TESUD), Honorary Research Fellow in London Metropolitan University Haldun Solmaztürk explained to Sputnik Turkiye what Ankara is so concerned about.
"It is hard to imagine that after a successful completion of the offensive to retake Raqqa from Daesh, the Syrian Kurds will simply walk away, refusing to take control of the city," he told Sputnik.
"That has never happened before in history," he added.
However, he further suggested, it does not necessarily mean that Raqqa will inevitably become part of the Rojava autonomous region, which now consists of three self-governing cantons in northern Syria.
However, Haldun Solmaztürk explained, the fate and the status of the city will depend on the further developments in the north of the county.
"Under the pretext of the international coalition's fight against Daesh, the US has already temporarily deployed its officers in the north of Syria, and there are already a number of US military bases there," he said.
He further suggested that the Americans are considering making these bases permanent and there are likely certain agreements on the issue with the Syrian Kurds.
However Syria is so far an independent and sovereign state with explicit borders and there is no chance of setting up permanent US bases in the country without an agreement with Damascus.
The situation could still change, the Turkish retired Brigadier General suggested. There is a chance that the country might be split up. Hence Ankara should not believe Washington's promises that the Kurds will leave Raqqa right after the end of the operation.
© REUTERS / Nour Fourat /
Islamic State billboards are seen along a street in Raqqa, eastern Syria. The billboard (R) reads: "We will win despite the global coalition" (File)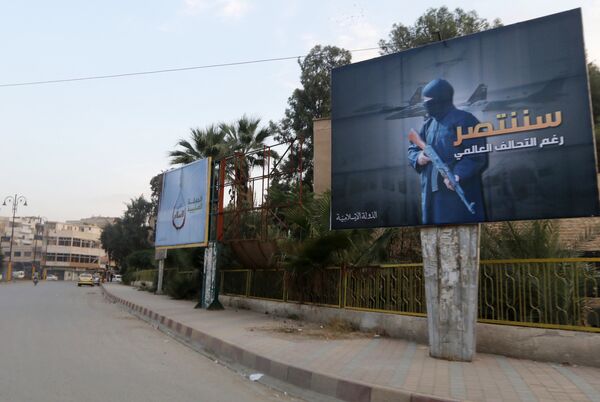 Islamic State billboards are seen along a street in Raqqa, eastern Syria. The billboard (R) reads: "We will win despite the global coalition" (File)