At least three petitions have been created on Change.org in the past twenty-four hours, including one from the UK, which has already collected over 7,000 signatures, and two others.
The petitions are simple, asking Mr. Trump to "please pardon Julian Assange" and to "end his imprisonment." The most popular petition stresses that Assange, who "has shone a bright light on the corruption of those who presume to rule us…must be granted a presidential pardon absolving him of any crimes alleged against him. He is a hero and must be honored as such."
Thousands of people have also taken to social media, calling on the President-elect to free the activist from his refuge in Ecuador's Embassy in London, where he has been effectively incarcerated, on threat of extradition to the US, since August 2012. 
Trump owes his office to Wikileaks, it will be interesting to see what he does about Assange. A little quid pro quo?? Or was there no deal? https://t.co/MMQK8gYGTS

— Margaret (@MargaretKipp) November 11, 2016
​Queensland, Australia Senator Pauline Hanson was one of the first to join the 'Free Assange' campaign, tweeting her appeal shortly after Trump was declared winner of the election.
​WikiLeaks' official Twitter account thanked everyone for their support, but said that actually, "all that is needed is for the [US Department of Justice] to do the right thing" and close the case against Assange.
​Outspoken Republican commentator and Trump supporter Ann Coulter, well known for her frank and often brusque style of political commentary, went a step further, saying that "just for exposing the media, Assange deserves a pardon and a presidential medal of freedom."
​This is a far cry from Republican attitudes toward Assange and WikiLeaks in previous years, when many commentators and politicians were saying that Assange 'should be tried under the Espionage Act', and WikiLeaks 'designated a terrorist organization'.
But this year, the highly damaging series of revelations about DNC collusion to rob Clinton primary opponent Bernie Sanders of the Democratic nomination, followed by tens of thousands of injurious emails known as the Podesta leaks, seem to have warmed Republicans up to the freedom of information crusaders, at least temporarily. Trump himself has jested on the campaign trail that he 'loves WikiLeaks' for exposing his opponent.
Assange himself has yet to comment on Trump's victory, but is probably surprised by the upset, if comments ahead of the election are any indication. Just days before the election, Assange told respected Australian journalist John Pilger that he thought Trump 'wouldn't be allowed to win.'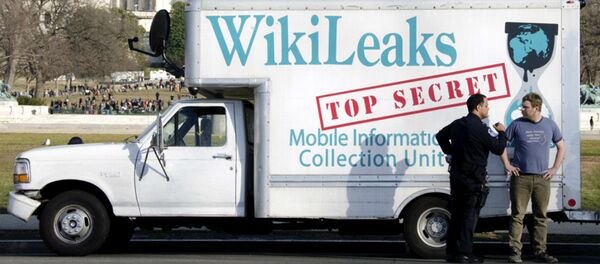 10 November 2016, 07:11 GMT
In the meantime, deflecting criticism that the WikiLeaks leaks may have handed Trump victory, WikiLeaks' official account
stressed
that the Democratic Party essentially dug its own grave "by biasing its internal electoral market" and "select[ing] the less competitive candidate, defeating the purpose of running a primary."
In his own letter on the eve of the election, Assange said that his organization's focus on Clinton was based on the fact that Clinton's material was available, and met the organization's standards. "…We cannot publish what we do not have. To date, we have not received information on Donald Trump's campaign, or Jill Stein's campaign, or Gary Johnson's campaign or any of the other candidates that fulfills our stated editorial criteria."
Assange remains trapped in the Ecuadorian Embassy in London, his internet access cut off. The Trump team has yet to make any official comment on Assange and WikiLeaks. Assange's supporters, meanwhile, remain hopeful that Trump will recognize WikiLeaks' contribution to his victory and issue him, as well as WikiLeaks source Chelsea Manning, and NSA whistleblower Eduard Snowden, a pardon.
Pardon
Manning
Snowden
Assange
Lets make America more like the free country that was founded not a machine that snoops on its citizens.

— 0Hour1 (BRIAN) (@0hour) November 9, 2016