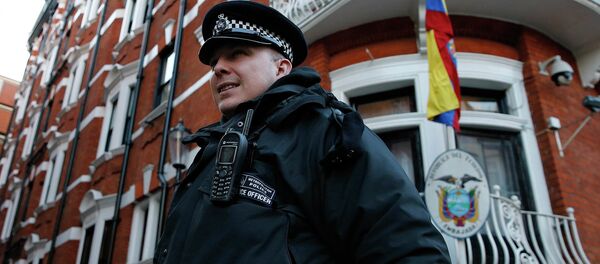 14 November 2016, 19:02 GMT
STOCKHOLM (Sputnik) — The interview of the WikiLeaks founder Julian Assange regarding accusations of sexual assault will continue on Tuesday, the Swedish Prosecution Authority said in a statement.
"Julian Assange was questioned today at the embassy of Equador in London. On Tuesday, November 15, the interview will continue," the statement of the prosecution said.
On Monday, Swedish media reported, citing Assange's Swedish lawyer Per E Samuelsson, that the interviews with Assange might take three working days.
Assange has been residing at the Ecuadorian Embassy in London since 2012 for fear of being extradited to Sweden where he has been accused of rape. The WikiLeaks founder denies the allegations, saying they are part of Washington's efforts to get him handed over to the United States where he is wanted for leaking thousands of top-secret documents.
The Swedish Court of Appeal upheld Assange's detention order in September despite a UN working group ruling earlier this year, according to which his de-facto incarceration is arbitrary.