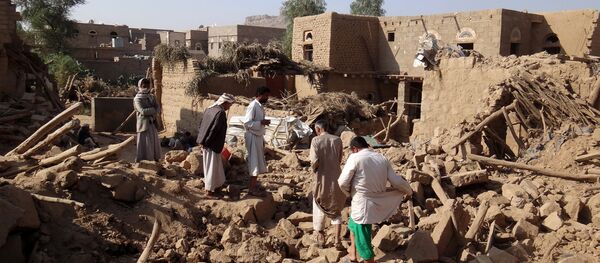 7 November 2016, 22:08 GMT
MOSCOW (Sputnik) — The UK government on Monday called on the leadership of the Saudi-led coalition operating in Yemen to inquire into the allegations of violations of the International Humanitarian Law (IHL) during the operation.
"We want to see the Saudi-led Coalition investigate allegations of breaches of International Humanitarian Law (IHL) which are attributed to them; and for their investigations to be thorough and conclusive," the government said in an official response to the Foreign Affairs Committee report.
The report said that the members of the coalition know the military procedures during their operations better than other sides and could respond to possible violations more effectively.
Since 2014, Yemen has been engulfed in a military conflict between the government of Abd Rabbuh Mansur Hadi and the Houthi fighters, supported by army units loyal to former President Ali Abdullah Saleh.
A Saudi Arabia-led coalition has conducted a military operation in Yemen against the Houthis since March 2015. The UN human rights agency OHCHR estimates that Saudi airstrikes have killed at least 4,125 civilians and injured 7,207 in Yemen.