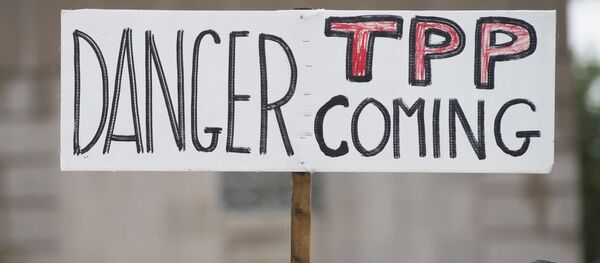 14 November 2016, 06:03 GMT
LIMA (Sputnik) —During his campaign, the Republican candidate labeled the Trans-Pacific Partnership (TPP), championed by President Barack Obama, a "disaster," promised to re-negotiate US trade deals and withdraw from NAFTA.
"There was very strong rhetoric during the election campaign that was critical of some trade agreements, for example he said that he would withdraw from the TPP. However, as an experienced businessman I would expect him to be somewhat pragmatic," Eduardo Pedrosa said.
Fears of rising protectionism in global trade after Trump's election are number one on the agenda at the APEC Economic Leaders week in Lima, Peru.
Trump also promised to designate China a "currency manipulator" on day one of his presidency and to do everything possible not to allow China harm US businesses.
"The US and China have a deep trade and investment relationship, any deterioration in that trade relationship would be extremely costly to both sides," Pedrosa said.
Trump's promise to call China a currency manipulator may also have no far-reaching repercussions, according to Pedrosa, as this issue is under a strict control of specific institutions in the United States.
"The issue of currency manipulation gets a lot of attention in the media but in the US there are specific institutions that are responsible for investigating practices and making recommendations. Under the 2015 Trade Facilitation and Trade Enforcement Act the US Treasury undertakes an enhanced analysis of exchange rates and externally‐oriented policies for each major trading partner," he pointed out.
PECC comprises senior officials from governments, businesses and intellectual circles of the Pacific Rim countries. The Council develops regional policy initiatives on trade, investment and finance.