MOSCOW (Sputnik) — Radev, the former commander of Bulgaria's Air Force, supported by the opposition Socialist Party, won the Bulgarian presidential elections on Sunday. While outgoing President Rosen Plevneliev has been a vocal critic of Moscow, the newly elected head of state has been advocating dropping the EU sanctions against Russia and closer ties with Moscow to help Bulgaria's struggling economy.
"I strongly hope that the relations between Moscow and Sofia will be warmer. I firmly believe that Bulgaria can be a bridge between Brussels and Moscow. Russia is a partner and I believe we should communicate normally in a spirit of good will and cooperation," Nekov, a member of the Group of the Progressive Alliance of Socialists and Democrats in the European Parliament, said.
He praised the new president's intention to reconsider sanctions against Moscow that were imposed by the European Union in 2014.
"The mutual sanctions do not work for anyone, they do not deliver anything, so I see no sense in prolonging or having them," the lawmaker said.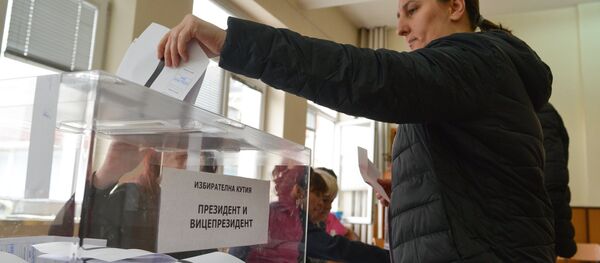 14 November 2016, 06:10 GMT
In his victory speech, Radev reiterated his opposition to EU sanctions on Russia and praised US President-elect Donald Trump for "seeking more dialogue" with Russian President Vladimir Putin.
The victory of Radev, sympathetic for Russia, was mirrored in Moldova, where, also on Sunday, Socialist Party candidate Igor Dodon, also known for his friendly stance on Russia, won the presidential elections. The victory of both politicians prompted the majority of Western mass media brand it a victory for Russia and defeat for the European Union, openly calling both Radev and Dodon "pro-Russian candidates."
"I believe this is a sort of propaganda, trying to establish walls there where we need bridges. We should not forget that it is Bulgarians and Moldovans who elect directly their presidents and not some politicians or media representatives from the West," Nekov said.
He also mentioned that for the majority of Bulgarians the presidential elections were not a clear choice between Russia and Europe and reaction to people's disappointment with Brussels.
"I do not think that the Bulgarians are disappointed with the EU. Bulgarian grievances are related to the global chaos, which causes direct and indirect effects on them," the lawmaker stressed.
The election of Radev, who is due to take office on January 22, led to center-right Prime Minister Boyko Borisov handing his resignation to parliament as his party's presidential nominee lost. Now, an interim government will govern until new elections, expected in March at the earliest.