MOSCOW (Sputnik) — Russian delegates took part in the Intermediate-Range Nuclear Forces Treaty (INF Treaty) Special Verification Commission (SVC) session that was held for the first time in 13 years, the Russian Foreign Ministry said Wednesday.
"On November 15-16, the 30th session of the Intermediate-Range Nuclear Forces Treaty Special Verification Commission took place. Delegations from Russia, Belarus, Ukraine, the United States and Kazakhstan discussed issues related to implementing the treaty," the ministry said.
The meeting, convened by the United States in Geneva, took place for the first time since its 2003 session, when the work of the SVC was curtailed as INF Treaty aims had been implemented.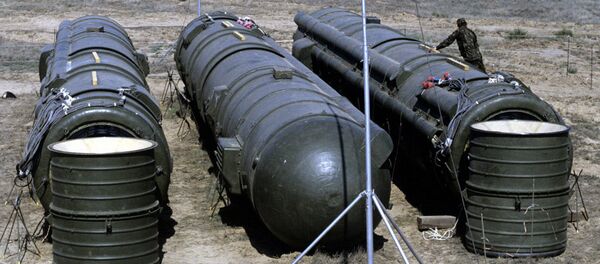 21 October 2016, 11:27 GMT
The US move had been welcomed by the Russian Foreign Ministry's Non-Proliferation and Arms Control Department. In October, the department head, Mikhail Ulyanov, said Moscow had plans to use the meeting to discuss the use of combat drones and target drones, as well as the Mark 41 Vertical Launching System (Mk-41) deployed by the United States in Romania.
In May, the United States activated its Aegis ashore ballistic missile defense system (BMDS) in Romania equipped with the Mk-41 launcher, prompting Russian concerns over US breaches of the intermediate missile treaty. Moscow considers the Mk-41 to be capable of launching Tomahawk long-range cruise missiles.
The 1987 INF Treaty prohibits the development, deployment or testing of ground-launched ballistic or cruise missiles with ranges between 300 and 3,400 miles. The treaty was implemented by 1991 with inspections carrying on until 2001.