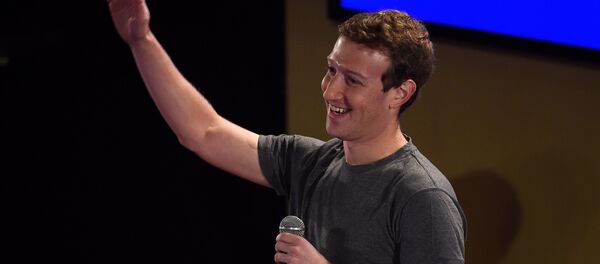 19 November 2016, 04:13 GMT
LIMA (Sputnik)
–
Global connectivity and worldwide internet access will generate tremendous economic growth in every part of the world, Facebook founder and CEO Mark said addressing APEC CEO Summit in Peru on Saturday.
"Connecting everyone will lead to a dramatic economic growth and will help to lift millions of people out of property," Zuckerberg said.
He noted that currently four billion people across the globe, which is almost a half of the world, are not connected to the Internet.
"According to the World Bank, for every 10 percent increase in connectivity, a developing country's GDP groves by 2 percent," Mark Zuckerberg said.
Facebook founder called on APEC leaders to make connectivity their priority and to increase investments in connectivity infrastructure.
"We must make connectivity and connectivity infrastructure a priority, as connectivity of people is the path to create overall prosperity," Zuckerberg said.
Facebook founder announced plans to raise the issue of connectivity and investments with several APEC leaders during his face-to-face meetings.
Peru has been hosting APEC's all-year-round meetings that will culminate with the economic leaders' summit in Lima on November 19-20.
The summit is chaired by Peruvian President Pedro Pablo Kuczynski. The APEC leaders are expected to work out a strategic vision and guidelines for economic cooperation in the Asia-Pacific region for 2017, which will be laid down in the Lima declaration.
Mark Zuckerberg stressed the need to protect people's privacy and prevent cyber-terrorism while pushing for more Internet connectivity across the world in his address to APEC business communities and CEOs in Lima.
The main purpose of Facebook activities at the APEC this year is to push forward the "Connectivity Revolution" project, which intends to introduce a new way of providing Internet access to remote places around the world via drones sending a laser signal.
"These are the great things that we should dare to do. But as an engineer, I am also realistic. We can work to give people a voice, but we also need to do our part to stop the spread of hate and violence. We can build artificial intelligence to fight terrorism, but we also need to make sure that we have kept people's privacy," Zuckerberg said.
In his speech, he explained that better internet connectivity can raise education level, boost economic growth and even help fight curable diseases, thus raising life expectancy across the globe.
"We are building artificial intelligence that can fight content that might come from a terrorist. We build tools that can help people know that the ones they care about are safe in the middle of a disaster. Building technology helps people stay safe," Zuckerberg added.
The drones that Facebook suggests using for providing Internet access are supposed to stay aloft in the air for three to six months and send a laser signal down to earth. This can be a a solution for places where infrastructure has been destroyed or where there is no funds for building it.
Zuckerberg intends to raise the issue of Internet connectivity at personal meetings with APEC leaders on the summit's sidelines on Saturday and Sunday.
Peru has been hosting APEC's all-year-round meetings that will culminate with the economic leaders' summit in Lima on November 19-20.