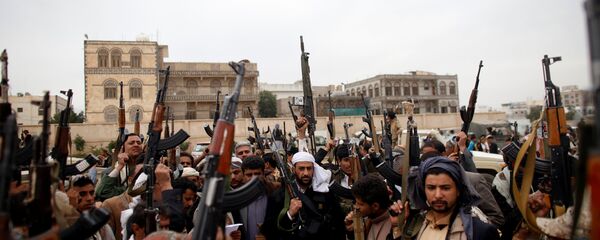 17 November 2016, 10:45 GMT
MOSCOW (Sputnik) —  Houthi rebels have seized ships with humanitarian aid in the Red Sea harbor, potentially causing famine in rebel-held areas, Yemen's Minister of Local Administration Abdulraqeeb Fath said, as cited by local media on Sunday.
According to SABA media outlet, Fath met with Russian Ambassador to Yemen Vladimir Dedushkin in Riyadh on Saturday.
"It is a shame that the Hodeidah province, which hosts the world's biggest food storage facilities, is suffering from famine," Fath said during the meeting, as quoted by the media.
Dedushkin reportedly noted during the meeting that Russia was ready to provide humanitarian aid for Yemen, including food, medicine and power generators for hospitals..
The conflict between the Yemeni government and Houthi rebels, which has been ongoing since 2014, has caused a humanitarian catastrophe in Yemen. Ansar Allah militants seized control over large areas of the county's territory including Yemen's capital Sanaa and a range of ports on the Red Sea. According to the World Food Program report on Yemen issued on November 14, over 21 million people, or 82 percent of the population, are in need of humanitarian assistance.