During a recent public seminar held in London, the Women's International League for Peace and Freedom UK (WILPF), an NGO and globally connected network of feminist visionaries and activists, discussed the relevance of gender injustice, to emphasize the importance of a much-needed worldwide shift.
Sarah Ogbay, coordinator with the Network of Eritrean Women group, which campaigns for the rights of women in the region, provided a number of case studies highlighting the exclusion of women in decision-making processes on the ground.
"We have found there is a significant difference in even communication styles between men and women in Eritrean societies. The men can be criticized as often being ego-driven during discussions and especially when dealing with conflict issues, whereas in comparison, women can be better at advocating a culture of democracy and managing a vision with a more caring approach," Sarah Ogbay told the conference.
"Bearing in mind many aspects of what women can bring to the process of conflict-resolution and peacemaking, I do feel that the world could be a safer place if more women were involved in decision-making and policy," she added.
Ogbay also emphasized the many gender-biased, culturally-specific obstacles at play in Eritrean societies, which she felt may also be relevant across a number of conflict regions in the world:
"Many women grow up being told they have a lower place in wider Eritrean society, so the weight of traditional culture can be difficult. This is why what we are pushing for is for girls to be trained to learn leadership skills early on and to also gain the confidence to be able to use these skills where it matters."
Members of WILPF UK felt that even in communities where dominant matriarchal societies seem to exist, an inter-cultural mixing of the actual dominant male cultures, with the women's alternative approach of dealing with problems could be the missing link for effective interventions in local conflict issues:
"Women need to take more initiative despite any obstacles that may exist, and in particularly those active in the global feminist movements need to support each other as part of the process of encouraging more women leaders to emerge," commented one member of the audience.
Kirsten Campbell from Goldsmiths College in London, a gender studies expert, shared some of her research and experience from working with women during the former Yugoslavia and Bosnian conflict:
"The pressure from feminist groups was crucial in former Yugoslavia as it is even today in similarly complex conflicts around the world. However when women are not engaged in peace processes, important gender-based considerations remain missing across wider society as a whole, which is unacceptable. For this reason, peace agreements must include representational gender-focused components," Kirsten Campbell explained to the audience.
For example, the inclusion of gender dimensions in the Colombian Peace Treaty had faced considerable obstacles from the religious factions in the country and may have been a significant factor for why the treaty was declined in the national referendum, Campbell told Sputnik:
"Obstacles will always be contextual with regards to any local resistance against gender dimensions. But to get through obstacles, there needs to be adequate local support structures in place that factor in cultural contexts, and both men and women need to challenge any unjustified obstructions."
© Sputnik / Vin Sharma
Chair of the seminar Marie-Lyse Numuhoza of WILPF-UK and guest speaker Kirsten Campbell of Goldsmiths College, London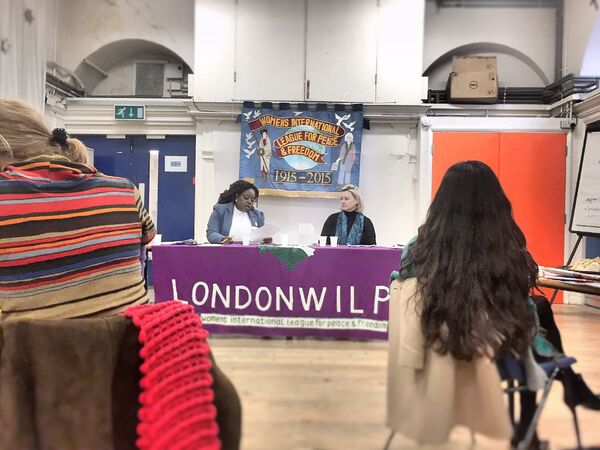 Chair of the seminar Marie-Lyse Numuhoza of WILPF-UK and guest speaker Kirsten Campbell of Goldsmiths College, London
When questioned about the need to look beyond gender demographics during what appears to be a rising climate of broader systemic dissidence, as well as the polarizing factors that are affecting more people in the journey towards gaining world peace, Campbell acknowledged the need for both men and women to engage in dialogue more collectively:
"WILPF is a very important organization that has made vital interventions at international and national levels around how we do peacemaking.
"What is crucial to understand is that the issues of conflict and war affects everyone, be they women, men, young people and older people and what we are particularly emphasizing beyond any demographics, is the universal importance of us all coming together in solidarity against the powers at play that divide us today.
Another member of WILPF provided a reflective approach in dealing with the kind of political dynamics escalating around the world:
"The world is experiencing some very new challenges at the moment, and the need for a feminist movement to work alongside other progressive movements will be sure to encourage world peace far more effectively."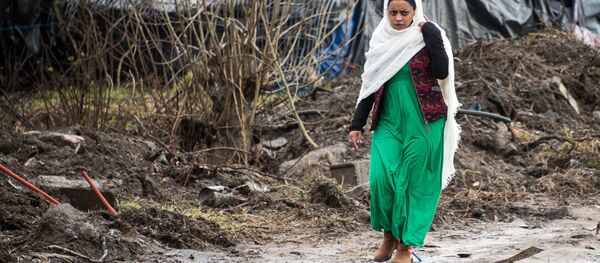 19 September 2016, 15:22 GMT
It was also highlighted during the discussion that in denying and failing to address the very particular experiences of women in conflict zones is also a counter-intuitive factor in achieving peace on any level.
What is needed, according to members of WILPF UK, is a continuation of public engagement everywhere, as well as a combination of providing a shared commitment to justice in instances where injustices occur, magnifying examples of exceptional women in leadership roles who can act as role models for others, and increased supported structures on the ground that enable women to engage more easily:
"We need to follow in the footsteps of the countless number of exceptional women doing great work on the ground in all countries, And more power to the peaceful, regardless of their gender!" one attendee at the London seminar concluded.