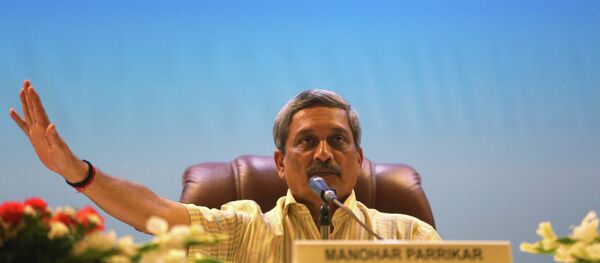 10 November 2016, 17:22 GMT
New Delhi (Sputnik) — India has adopted a flexible blacklisting policy that permits business with certain banned firms and their subsidiaries.
Defense Minister Manohar Parrikar said a top official will prepare a list of all firms blacklisted in the past. "That does not mean they will be taken out [removed from the blacklist]. Don't interpret… they will be examined. What is the status, how many years they have been blacklisted for and why they were blacklisted?'' Parrikar said.
The new policy is a mixture of heavy fines and graded banning. It allows other subsidiaries to do business if one of them has been charged with violating the moral code. This problem arise when all group companies of Finmeccanica were banned after its helicopter subsidiary was implicated in a bribery scandal. As a result of this blanket banning, Indian Navy was deprived of torpedoes contracted with another Finmeccanica company.
The Modi Government has now decided to resume business with a banned firm on grounds of national security, operational military readiness and export obligations. It may also receive a reprieve if there is no alternative to its weapons system or equipment. This will require a certificate signed by the service vice-chief and a senior bureaucrat. The final permission will still vest with the Defense Minister.
"All policies have evolved over time. This one is an effort to strike a balance between the tricky issue of dealing with allegations of transgression and the imperatives of preventing derailment of modernisation efforts. I can't say if this is the best policy globally but it is a step in the right direction," says Amit Cowshish, Former Financial Adviser to India's Ministry of Defense.
The existing blanket blacklisting policy had affected many crucial acquisitions, upgrades, repair, refit as well as export proposals remaining in doldrums for years.
Currently, India has banned 15 defense suppliers including some major foreign defense firms on charges of corruption and bribery.