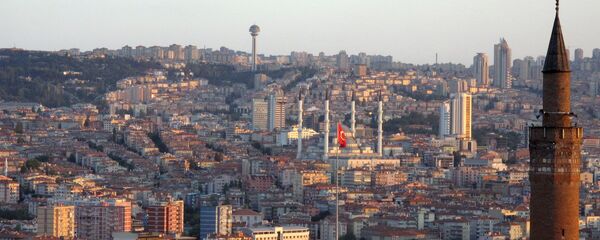 22 November 2016, 09:59 GMT
ISTANBUL (Sputnik) — On Sunday, Turkish President Recep Tayyip Erdogan said that the EU membership was not the only option for Turkey and that the country's leadership discussed possible accession to the SCO with Russian President Vladimir Putin and Kazakhstan's leader Nursultan Nazarbayev.
"No one can keep Turkey at their door for 60 years … Therefore I think that Turkey's accession to the SCO [would be] a very important positive step," Sanverdi said.
The SCO is a political, economic and military alliance that includes Russia, China, Kazakhstan, Kyrgyzstan, Tajikistan and Uzbekistan. Belarus, Mongolia, Iran, Afghanistan, India and Pakistan hold observer status in the organization, while Turkey, as well as Azerbaijan, Cambodia, Armenia, Nepal and Sri Lanka hold status of dialogue partners. Pakistan, India and Iran have officially applied for SCO membership.