Writer and columnist Patrick Lawrence told Radio Sputnik's Brian Becker that although the timing of Chinese leader Xi Jinping's visit is "interesting," he does not believe that it is specifically intended to "fill in the American vacuum."
"I don't think that's the way the Chinese think," he suggested, during the Loud & Clear broadcast. "They are developing an economy, that's what's on the mind of the Chinese leadership. It's rather well-known, they cannot afford a lapsed growth rate."
Just because American and European media agree in announcing the death of the TTP deal, it would be wrong to assume that the primary strategic aim behind Xi's visit is to counter American influence, Lawrence claimed.
"I think it's probably impossible to kill the Monroe Doctrine, it's part of America's DNA," he said, adding, "As long as there's a United States of America, there's going to be some form of Monroe Doctrine, declared or undeclared."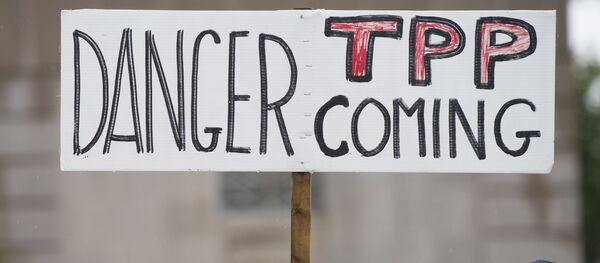 22 November 2016, 18:08 GMT
Lawrence agreed, however, that now, with the incipient collapse of the TPP, China's suggested Free Trade Agreement of the Asia-Pacific has a higher chance of implementation. The agreement, actively promoted by the Chinese President at the APEC conference and during bilateral meetings with Latin American governments, compares favorably with the TPP, in part due its more integrated 'holistic' approach, he believes.
According to Lawrence, the TTP was not so much a trade agreement as a strategic deregulatory device in the service of the international corporate elite and those on their payroll.
"I don't want to idealize Chinese policy, they are properly, let's say, self-interested. But I think their approach to the region is more equanimous than the United States," he said.