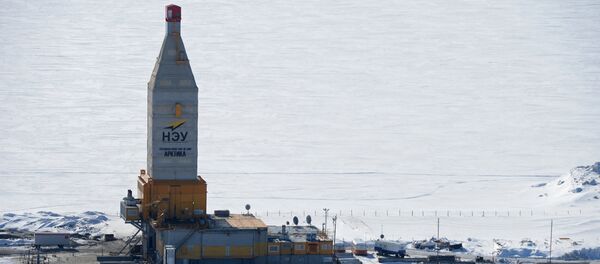 21 November 2016, 10:28 GMT
TOKYO (Sputnik)
–
Russia's upstream Novatek gas producer invites Japanese companies to take part in developing its Arctic liquefied natural gas (LNG) projects, including the Kolskaya Verf LNG module construction yard, Novatek CEO Leonid Mikhelson said Thursday.
"We expect to reduce liquefaction costs by achieving 95-percent equipment availability. Novatek has started to plan building such a project and it is called Kolskaya Verf. We invite Japanese companies to take part in such projects," Mikhelson said at the fifth annual LNG Producer-Consumer Conference in Tokyo.
The one-day event is attended by corporate producers and consumers of liquefied natural gas, as well as government and financial institutions' representatives. Hosted by the Japanese Economy Ministry, previous conferences have been attended by over 1,000 representatives from over 50 countries, according to the organizers.
Russian-Japanese cooperation in extracting gas from Russia's Arctic Yamal peninsula would be beneficial to both sides, Mikhelson stressed, adding that Novatek aims to lower costs and make Yamal gas competitive on the global market.
Asian-Pacific countries, including Japan, would stand to substantially benefit from using the Northern Sea Route linking Europe to Asia via the Arctic to transport Russian gas, according to the CEO.
"The Suez Canal is currently the key route, handling 400 million tonnes of cargo annually. Redirecting at least 20 percent of this volume to the Northern Sea Route would bring tangible economic benefits to the Asia-Pacific countries," he said.
Novatek is currently working to complete the South-Tambeyskoye field-based Yamal LNG project, which is planned to produce 16.5 million tonnes of LNG annually and become Russia's first LNG plant in the Arctic. The Arctic LNG plant is still in the planning, with Novatek officials previously stating the company expects to launch the facility by 2025. The company had said it plans to take up some 7 percent of the global LNG market with both plants' combined output.
Natural gas is a relatively clean fossil fuel, which has been outpacing all other fossil fuels in terms of demand. Demand for is expected to rise almost 50 percent by 2040, according to the International Energy Agency (IEA).