MOSCOW (Sputnik) — On Wednesday, the European Parliament voted in favor of a resolution on countering Russian media outlets, such as the Sputnik news agency and the RT broadcaster. As many as 304 voted in favor the document, 179 voted against and 208 abstained. With a total of 691 officials taking part in the vote, less than half supported the resolution.
"This last European move cannot be separated from the political orientations. This dangerous resolution is not simply a measure that targets a media outlet as much as it is a political decision that falls within the context of the campaign and the siege that is being imposed on Russia, and they are trying to impose a media siege that was formulated by the United States and was later given to the Europeans so they could adapt it," Haitham said.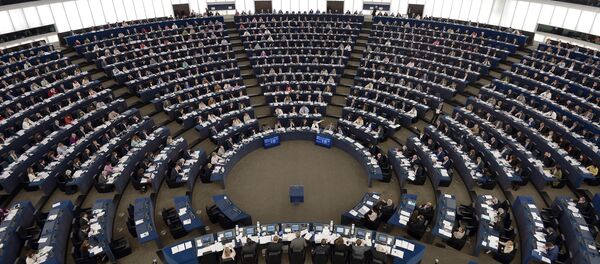 24 November 2016, 14:34 GMT
Haitham added that the recent resolution by the European Parliament has exposed "all previous lies by the West" in trying to present itself as a beacon of truth and freedom of speech in the world.
The resolution said that Sputnik and RT posed a danger to European unity and called for extra European Commission funding for counter-propaganda projects.
Sputnik responded by calling the move a direct violation of media freedom and human rights, while Russian President Vladimir Putin commented on the matter by pointing out that the document indicates a degradation of democracy in the West. Praising Sputnik and RT for their work, the president expressed hope that real media restrictions would not follow.