Kendo is a modern Japanese martial art, which descended from swordsmanship and uses bamboo swords. Kendo matches are usually associated with fast moves and fiercely clashing swords, but you won't see that in this rather unique match.  (WARNING: the video is NOT frozen).
The video starts when the match is already in process and shows its hilarious finale. This "hot battle" took place on November 23 during a Kendo Championship in the city of Iruma in Saitama Prefecture. The competitors are two high-rank (7th dan) elderly kendo masters.
When they initially faced off, everybody thought that it was going to be a fierce competition; however the match took a more philosophical turn and ended with neither of the combatants even attempting a strike.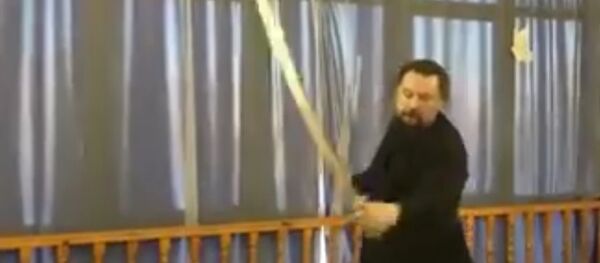 23 November 2016, 15:57 GMT
While the spectaculars were a little taken aback, experts point to the match being a perfect demonstration of "samurai spirit."
"I think we had an opportunity to see something amazing," the Head of Iruma Kendo Federation Eiku Arai told J-Cast News.
"I know such battles happened in the past with real swords. I have read in books that in the olden days when two samurais struggled, sometimes battles ended without a single strike because one of them gave up beaten down by his opponent's spiritual strength, as the samurais were measuring their distance holding their swords," Arai said.
The "battle" in the video ended in a draw. Probably, both competitors were too strong spiritually.