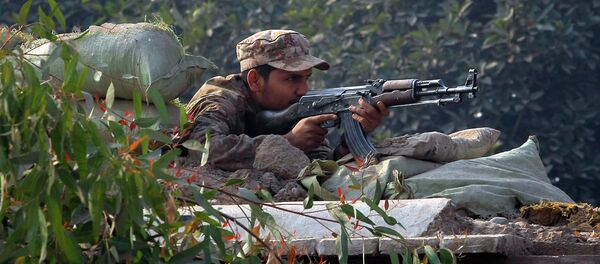 27 November 2016, 21:59 GMT
NEW DELHI (Sputnik) — The court passed the order during a hearing of a review petition, filed by the Anti-Terrorism Court, challenging the former president's acquittal. After studying the arguments of the plaintiff and the defense, the High Court issued an arrest warrant, the Express Tribune newspaper reported.
In January, Musharraf, who was president of Pakistan between 2001 and 2008, was acquitted of charges relating to the murder of Bugti, but his son, Nawabzada Jamil, demanded to reopen the case.
According to reports, despite repeated orders, Musharraf has failed to appear before the court citing security reasons. The court ordered that the administration should ensure provision of security to the former president while he appears in court. The former president is currently in Dubai.
Akbar Bugti was the head of the Bugti tribe of Baloch people and served as the Minister of State for Interior and Governor of Balochistan Province in Pakistan. He was an advocate of greater autonomy for Balochistan and acted as a nationalist leader during the confrontation between central authorities and Baloch activists. He was killed in August 2006 during a search operation, allegedly ordered by Musharraf.