About half a dozen online retailers are selling "unpolluted air," local media reported on Tuesday. The bottled air comes from New Zealand, Canada, Britain, with a cheaper alternative of less polluted areas of China. 
"Pure, hand-bottled, pollution-free and oxygen-rich air from New Zealand," "Want to breathe the purest and freshest air? Then take a bottle of air from Weihai. No pollutants, absolutely pure. Either from the seashore, or from the mountains," outlets cite advertisements from online stores.

3 November 2016, 17:16 GMT
A bottle of fresh air from Weihai, East China's Shandong province, is priced at 5 yuan ($0.75). The imported air is more expensive. For example, the bottled air branded Vitality Air from Canada costs 108 yuan ($15.65) for a bottle containing 7.2 liters, and a bottle, 7.7 liters, of air from New Zealand costs 219 yuan ($31.73), according to the news site China.org.cn. "Luxury air" having a "morning dew feel to it" from Britain is $170, Radio New Zealand reported earlier.
Customers living in the nation's heavily polluted area are being offered big discounts. Those living in Beijing, who reportedly suffer from the worst pollution, could be offered discounts of up to 75%, while people in other areas can expect to receive discounts of up to 50%, the South China Morning post reported.
How to use the bottled air? Open the bottle and take a deep breath. The Vitality Air of Canada provides buyers masks, and the bottle of New Zealand air has an injector. According to the claim of the retailer from New Zealand, each bottle contains enough air to take at least 180 breaths.
Vitality Air said on its official WeChat account, a Twitter-like service, the company sold 10,000 bottles in eight months."Our Chinese website keeps crashing. We are getting orders from all over the country, not just from the wealthier cities. When the air is bad, we see spikes in sales," Harrison Wang, a China representative for Vitality Air, told Mashable earlier this year. "The smog is definitely our best advertising."
According to China.org.cn, an official from the commerce and industry authority said that China has no special laws and regulations on banning such products from entering the country.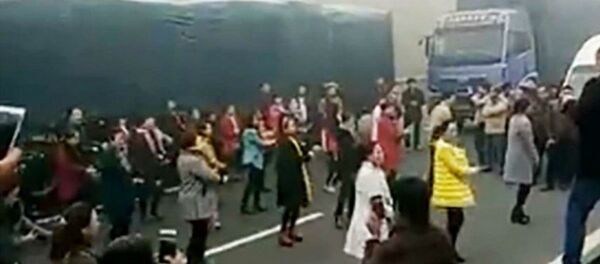 16 November 2016, 13:48 GMT
Zhang Xueming, a Beijing lawyer on product quality and safety, is quoted as saying that the imported air is related to safety problems because of the pressure container.
Some experts said people should not buy such products without a production date and quality certificates. They added that the products could be just hype to catch people's attention.
One customer, who bought a bottle of Vitality Air, posted a comment on a retailer's website saying: "I don't feel much different after breathing the air."
The market for all kinds of pollution-fighting tools is booming in China. The innovations include air purifiers that are attached to bicycles and outdoor towers that are meant to suck up smog. Bottled air is one of the most talked-about ideas, but probably one of the least practical ones.