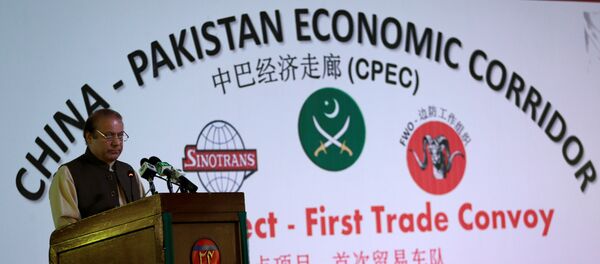 18 November 2016, 17:05 GMT
New Delhi (Sputnik) — "Reports appearing in Pakistan's media about some "secret talks" between Russia and Pakistan on the creation of China-Pakistan economic corridor (CPEC) do not correspond to the realities. The possibility of Russia's joining this initiative is not being discussed with Islamabad," the statement released by the Russia's Ministry of Foreign Affairs reads.
Russia has made it clear that it values its economic cooperation with Pakistan and aims for its further strengthening but the involvement of Russian companies in business projects in Pakistan including the North-South gas pipeline from Karachi to Lahore are purely bilateral arrangements.
Recent reports in Pakistani media claimed that the head of Russia's Federal Security Service, Alexander Bortnikov, had secretly visited Islamabad and met senior military officials and requested that Russia be allowed to join the CPEC, which was accepted by Pakistan. Pakistan would, in turn, grant Russia access to warm waters via the Gwadar port, developed with Chinese aid and a key component of the CPEC, the reports said.