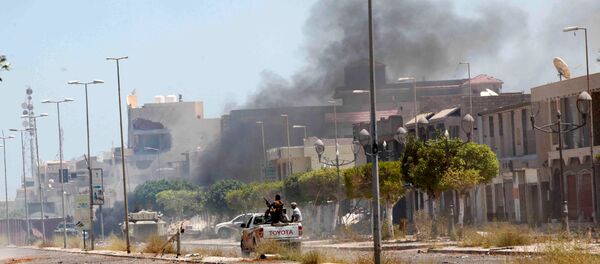 17 November 2016, 18:30 GMT
MOSCOW (Sputnik) — Earlier in the day, Russian Foreign Minister Sergey Lavrov held a meeting with
Libyan National Army
General Khalifa Haftar, who arrived in Moscow for an official visit on Sunday.
"The Russian side stressed the importance of the continuation of an inclusive inter-Libyan dialogue, based on the imperative of ensuring unity of the country, preserving sovereignty and territorial integrity of Libya. The readiness of Moscow to contribute to the successful promotion of political process in liaising with leaders of various Libyan political forces was confirmed," the ministry statement read.
According to the statement, the meeting mainly focused on the development of the military-political situation in Libya.
This is the second trip of Haftar to Russia since June when he met with Defense Minister Sergei Shoigu and Security Council Secretary Nikolai Patrushev.
Daesh terrorists gained a foothold in Libya in the turmoil following the 2011 ouster of the country's longtime leader Muammar Gaddafi. Daesh is outlawed in Russia, the United States and other countries.