Despite the menacing look of one of the fighters, this man's emotions gave him away. Abu Naser has a wife and two children, whom he sees once every three days. Prior to joining the ranks of the Syrian Army, he worked as a clerk.
He hopes that the war will end as soon as possible, so that he will be able to return to his family and civil work.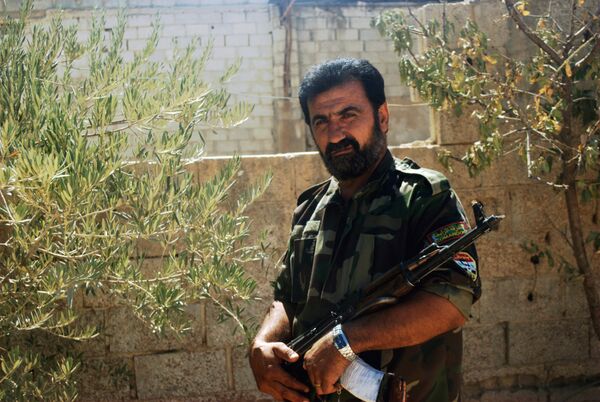 Abu Naser
"I joined the ranks after my house was bombed in Homs. There were dozens of dead, wounded and scattered body parts everywhere," Naser said recalling the horrid events that changed his life.
Another soldier named Basil is armed with a RPG-7 grenade launcher. In civilian life, Basil was a graduate of the Faculty of Law from Deir ez-Zor.
He has not seen his family for the past 4 years because his relatives live in the occupied part of the city and it is almost impossible to meet them.
"I look at their pictures and it warms me. I'd like to join the fight in native places, in order to be near my relatives," Basil told Sputnik Arabic.
© Sputnik
Syrian army soldiers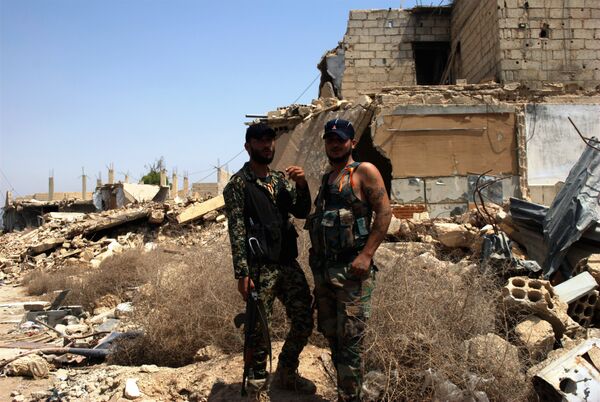 Syrian army soldiers
While the soldiers tell their stories, there are constant explosions of bombs and sounds of machine guns, but they pay no attention to all that because according to the soldiers these sounds don't scare them. What is really scary is when the locals switch their loyalties and join the ranks of the militants.
According to the soldiers, these locals then convey everything they see to the terrorists and that is real stab in the back.
Abu Mahmud, another soldier who spoke to Sputnik, said that every day the militants are trying to merge with the civilian population and enter the territory controlled by the army. The soldiers risk their lives when trying to stop the terrorists from doing so.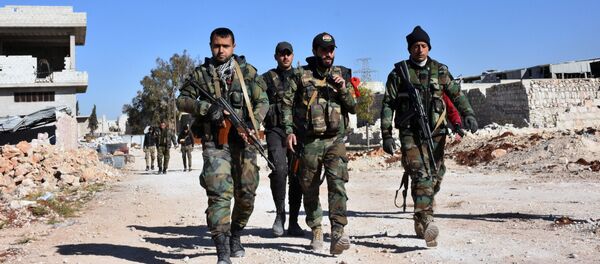 29 November 2016, 09:18 GMT
Abu Abdulla from Homs said that the terrorists killed his seventeen year-old son because his father was a "traitor" as he refused to join the ranks of Daesh.
He said, "I love my country and do not want destruction to continue. I want to liberate my country from the terrorists so that a peaceful life returns to our homes."
A volunteer soldier named Khalid, originally from Raqqa, said that as soon as he was able to escape the terrorists he joined the ranks of the Syrian Army.
"My family lives on the territory which is controlled by Daesh. As soon as I managed to escape from there, I immediately went to the Syrian Army. We are threatened by the terrorists with beheadings and other punishments. However our will is stronger. We will win," Khalid concluded.
Syria has been in a state of civil war since 2011, with government forces fighting the Syrian opposition groups striving to overthrow President Assad. In parallel, Damascus has had to counter numerous extremist groups, in particular, Daesh, the terrorist group outlawed in a wide range of countries.