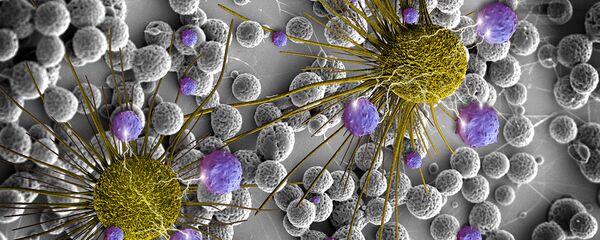 30 November 2016, 17:37 GMT
The National Cancer Center of Japan plans to work on a joint project which will introduce artificial intelligence to cancer diagnosis and treatment. The project, developed together with National Institute of Advanced Industrial Science and Technology of Japan, among other participants, is supposed to allow diagnosing the diseases in the early stages and developing the most effective treatment plan.
According to the press release, this system will utilize a massive database which contains genetic information and results of blood tests and even diagnostic imaging, all accumulated over the years. This database will allow for heuristic detection of cancer markers in the early stages of disease; it will also develop a treatment plan best suited for the patient.
According to Hiroyuki Mano, chief of the National Cancer Center, the group working on this project aims to help Japan catch up with other nations in AI use for medical treatment by promoting development through joint efforts in the private, government and academic sectors.
The exact AI engine name is undisclosed, but a fiscal report  published earlier in November suggest it may be an AI system developed by Japanese FRONTEO company.
This is not the only example of incorporating AI into cancer treatment. According to RCR Wireless News, Japanese institutions already seek to implement Watson Oncology, a solution based on IBM's Watson AI engine. According to University of Tokyo Professor Satoru Miyano, this solution was effective enough to start its own record of saved lives already.
"With Watson Oncology, we believe we can decrease the amount of time it takes for the latest research and evidence to influence clinical practice across the broader oncology community, help physicians synthesize available information, and improve patient care," reads the press release of New York-based Memorial Sloan Kettering Cancer Center.
Apparently, such mechanisms require time to teach themselves before they can provide assistance to human specialists.
"Our subspecialized oncologists are applying their unique expertise — integrating the latest published research with decades of longitudinal data into clinical practice — to teach Watson Oncology," says MSKCC press release.
The Japanese scientists from The National Cancer Center believe their system will be fully operational in five years.