WASHINGTON (Sputnik) – "The penny has dropped: The governments have decided not to fund Clinton Foundation activities anymore," Ortel said Tuesday. "Canada, Sweden and Ireland are countries that may undertake investigations or end their practice of contributing large sums to the Clinton Foundation."
He was commenting after Norway and Australia announced last weekend that they were ending their annual contributions to the charity, founded in 1997 by then-US President Bill Clinton and first lady Hillary Clinton.
According to the New York Post, the incoming presidential administration of Donald Trump will ask foreign governments investigate how the foundation spent hundreds of millions of donor dollars that it said went to provide low-cost medicine to treat AIDS patients in Africa, among other programs.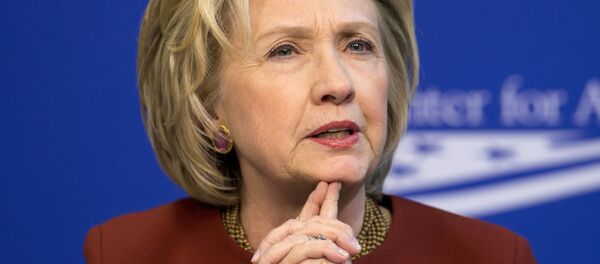 30 November 2016, 12:08 GMT
Ortel explained that government leaders around the world who had approved big yearly donations to the foundation presumed Hillary Clinton would be elected president on November 8. Her unexpected loss to Trump, however, has led to popular pressure in those countries for governments to disclose the fate of their donations.
"Governments now realize to their shock and horror there are numerous questions that regulators should have asked," Ortel asserted. "Why didn't regulators in different countries ask these questions about the enormous unmonitored donations to the Clinton Foundation before?"
Germany's Environment Ministry is being investigated about a donation to the Clinton charity of 4.5 million euros.
In an interview with Sputnik in Germany that was published Tuesday, left-wing member of parliament Niema Movassat questioned why information about his government's connection to the foundation scandal is coming out only now.
In Ortel's view, the German investigation illustrates the importance of a provision in New York state law requiring charities to specify in detail how they spend donors' money.
"The Clinton Foundation has not complied with that requirement," according to Ortel, a former executive at financial firms Chart Group and Dillon, Tead & Co.
He predicted that questions about the foundation will fuel a "media frenzy" worldwide, as public demands for investigations into individual governments' donations grow.
"The German people and the American people deserve answers," Ortel said. "We need an accounting: How many governments around the world have sent money to the Clinton Foundation? For what projects? In what amounts?"
In 2007, the UK government – led by Prime Minister Tony Blair and then Gordon Brown, both close political allies and personal friends of the Clintons – approved a grant of 1 billion pounds over 20 years to the charity, Ortel pointed out.