MOSCOW (Sputnik) — The Soyuz-U rocket lifted off earlier on Thursday from the Baikonur space center in Kazakhstan.
"The telemetry was lost 383 seconds into the flight after today's launch of the Soyuz-U rocket with the Progress MS-04 cargo spacecraft," Roscosmos press service said.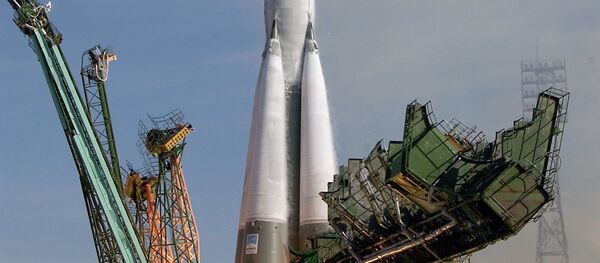 1 December 2016, 15:21 GMT
The docking of Russia's Progress MS-04 cargo spacecraft with the International Space Station (ISS) may be impossible following the reported loss of telemetry with the space vehicle shortly after the launch on Thursday, a source in the Russian space industry said.
"The absence of telemetry may indicate that the Progress is in an uncontrollable flight and its docking with the station will be impossible," the source told RIA Novosti.
The Progress space freighter is carrying more than 2.6 metric tons of food, fuel, and supplies for the Expedition 50 crew aboard the ISS.