Huntington Ingalls Industries, a manufacturer of Arleigh Burke-class warships, said in an email to CNBC that it could increase its pace of building two ships per year for the Navy to three or four "relatively easily." 
The Navy's cutting-edge Zumwalt-class destroyers have encountered a slew of technical difficulties. And the Zumwalt-class destroyers run in excess of $4 billion each, while Arleigh Burke-class ships hover around $1.3 billion.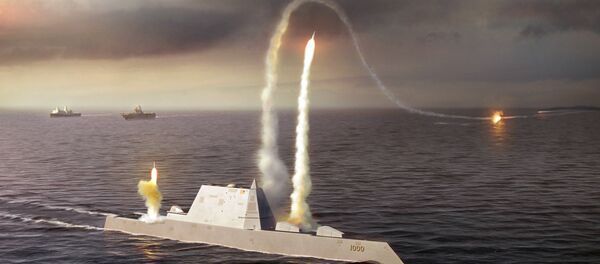 6 September 2016, 21:29 GMT
Advocates of the multi-purpose stealth Zumwalt contend that vessels offer long-term savings to the Navy, despite high initial costs. Benjamin Freeman, a national security expert at the Washington-based Third Way think tank, told CNBC, "my concern is that the Trump administration… would continue to buy the antiquated technology just to get ships in slots to that 350 number."
But worries remain over the cost sustainability the Zumwalt's ammunition, which cost almost $1 million per shot.
On Wednesday, a Zumwalt-class destroyer set sail for California from Panama, where the beleaguered vessel will undergo examination after encountering several technical issues, DefenseNews reports.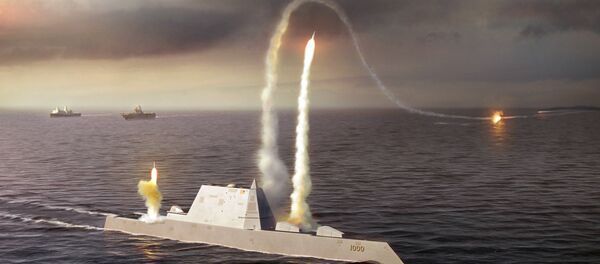 11 September 2016, 20:07 GMT
Reminiscent of a 1800s ironclad warship, the high-tech vessel broke down in late November while transiting the Panama Canal, ultimately requiring a tow to make it through the Miraflores locks. At a $4.4 billion sticker price, the Zumwalt-class destroyer is the one of the most expensive vessel in American naval history, but has struggled to keep its 32 propeller coolers functional.
The problem with the coolers has persisted since the ship left the manufacturer in early September. A Navy spokesman said that "several vendors" have been involved in the production of the coolers, according to the news outlet, making it difficult to assign blame for the ship's technical failures. When one of the coolers malfunctioned in October, a Navy official noted "they have not figured out why they are failing," Defense News reports.
Meanwhile, the Navy's Littoral Combat Ship program was the subject of significant flak from Republican senators Thursday, who noted that the project has suffered from "unrealistic" cost estimates and poor risk assessment, the Washington Examiner reported.