"Today, the US Army Corps of Engineers announced that it will not be granting the easement to cross Lake Oahe for the proposed Dakota Access Pipeline," the December 4 statement by Standing Rock Sioux Tribal Chairman Dave Archambault II said. "Instead, the corps will be undertaking an environmental impact statement to look at possible alternative routes."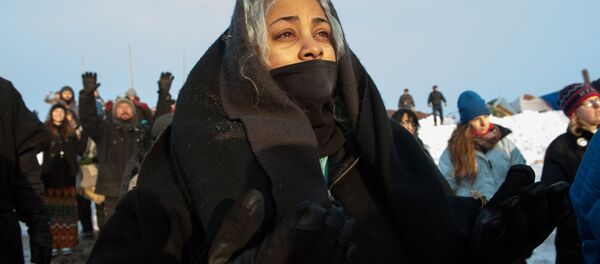 3 December 2016, 19:08 GMT
The Standing Rock Sioux and a growing coalition of other tribes, environmental activists and supporters have been protesting the construction of the nearly 1,200 mile pipeline for months, and suffering increasingly violent clashes with law enforcement and security personnel over the issue. The Standing Rock Sioux have objected to the proposed pipeline route for years, saying it threatened their water and sacred cultural sites and violated treaties.
The pipeline is mostly complete, and has been waiting for permission to run under federal land encompassing Lake Oahe.
"We wholeheartedly support the decision of the administration and commend with the utmost gratitude the courage it took on the part of President Obama, the Army Corps, the Department of Justice and the Department of the Interior to take steps to correct the course of history and to do the right thing," Archambault said.
The tribe thanked everyone who had supported them, calling out in particular the tribal youth who had initiated the movement, those who had traveled to the protest camp and other tribal nations who had stood with them. 
"Throughout this effort I have stressed the importance of acting at all times in a peaceful and prayerful manner — and that is how we will respond to this decision. With this decision we look forward to being able to return home and spend the winter with our families and loved ones, many of whom have sacrificed as well."
Archambault also said he hoped the incoming Trump administration and North Dakota's governor and Congressional representatives would respect the decision.
"When it comes to infrastructure development in Indian Country and with respect to treaty lands, we must strive to work together to reach decisions that reflect the multifaceted considerations of tribes.Treaties are paramount law and must be respected, and we welcome dialogue on how to continue to honor that moving forward. We are not opposed to energy independence, economic development, or national security concerns but we must ensure that these decisions are made with the considerations of our Indigenous peoples."
He also said he hoped to work together with local law enforcement to "heal" the relationship.
"Again, we are deeply appreciative that the Obama Administration took the time and effort to genuinely consider the broad spectrum of tribal concerns. In a system that has continuously been stacked against us from every angle, it took tremendous courage to take a new approach to our nation-to-nation relationship, and we will be forever grateful," the tribe's statement concluded.
Some supporters online have said protesters intend to stay in the camps out of fears Energy Transfer Partners, the owner of the pipeline, will build anyway. 
North Dakota Congressman Kevin Cramer issued a statement in response to the tribe's announcement.
"Today's unfortunate decision sends a very chilling signal to others who want to build infrastructure in this country. Roads, bridges, transmission lines, pipelines, wind farms and water lines will be very difficult, if not impossible, to build when criminal behavior is rewarded this way…. I'm encouraged we will restore law and order next month when we get a President who will not thumb his nose at the rule of law," he said.