On Sunday Turkish President Recep Tayyip Erdogan announced that Ankara is taking steps to conduct trade with China, Russia and Iran in local currencies, in an effort to support the Turkish lira.
The Turkish lira has been the worst-performing emerging market currency since the election of Donald Trump as US President. Since November 8 the US dollar has strengthened amid investor expectations that Trump's policies will cause higher inflation in the US economy and a consequent interest rate rise.  
Sumru Altug, Professor of Economics at Koc University in Istanbul and a Research Fellow at the Center for Economic Policy Research in London, told Radio Sputnik that in the short term, the policy should help the Turkish economy to counter the slump.
"There has been a withdrawal of funds from many emerging economies and Turkey has been hit. So in the short run this is one possible measure to stem depreciation of the Turkish lira."
"Over the longer run I think it is a reasonable policy in the sense that developments in center countries like the US or Europe have inordinate impact on emerging economies," Altug said.
"When they're doing trade in dollars, they have to hold huge amounts of reserves and their currencies get impacted negatively by these external developments. So you can think of this as an insurance mechanism to guard against these unforeseen developments in foreign exchange markets."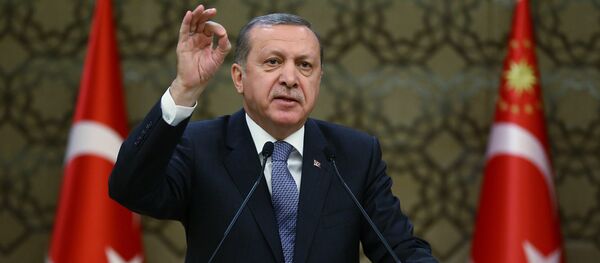 2 December 2016, 13:11 GMT
Starting with the yuan and ruble makes sense because China and Russia are Turkey's two largest trading partners; its third largest is Germany. Announcing a step to trade with Iran in rials may further represent a policy shift towards Eurasia, Altug said.
"There is also maybe some idea of forming a Eurasian economy, to move the focus of Turkey's activities, or more explicitly (move them) to Eurasian economies."
Erdogan's announcement about trade in lira with other Eurasian economies follows his call on Friday for Turkish individuals and institutions to back the struggling currency and transfer their assets from foreign currencies into lira and gold.
Borsa Istanbul, Turkey's main stock exchange, announced a few hour later that it would convert all of its cash assets into lira and keep them in lira accounts, Hurriyet daily news reported.