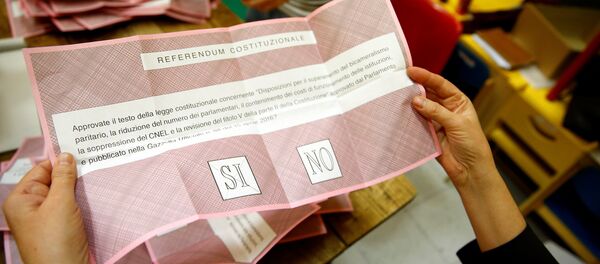 6 December 2016, 10:32 GMT
ROME (Sputnik) — On Sunday, Italians rejected a constitutional reform plan proposed by the prime minister. The referendum was largely viewed as a vote on Renzi's leadership. On Monday, the politician vowed to resign amid the announcement of the referendum's results, but Italian President Sergio Mattarella called on Renzi to postpone his resignation until after the adoption of a law defining the 2017 state budget.
"I can predict the intention to go for elections in February. Of course, the decision on the issue would be made by our head of state, Sergio Mattarella, and not by us," Alfano said in an interview with the Corriere della Sera newspaper.
Alfano, whose New Centre-Right party had called on the Italians to support Renzi in the referendum, said that his party would not oppose the position of Mattarella if he decided to hold snap elections.
According to the country's Interior Ministry, 59.11 percent of voters opposed the proposals, while the reforms were supported by 40.89 percent.