Regina Konstantinova — For almost 60 years, Barbie has been a beauty icon and inspiration for millions of women of all ages and from different parts of the world. Some ladies make all-out efforts in attempts to look like the famous doll. As for Valeria Lukyanova a.k.a. the Human Barbie, who shook the world with her impressive resemblance to the doll a few years ago, this nickname "stuck" to her by accident.
© Photo : Valeria Lukyanova
Valeria Lukyanova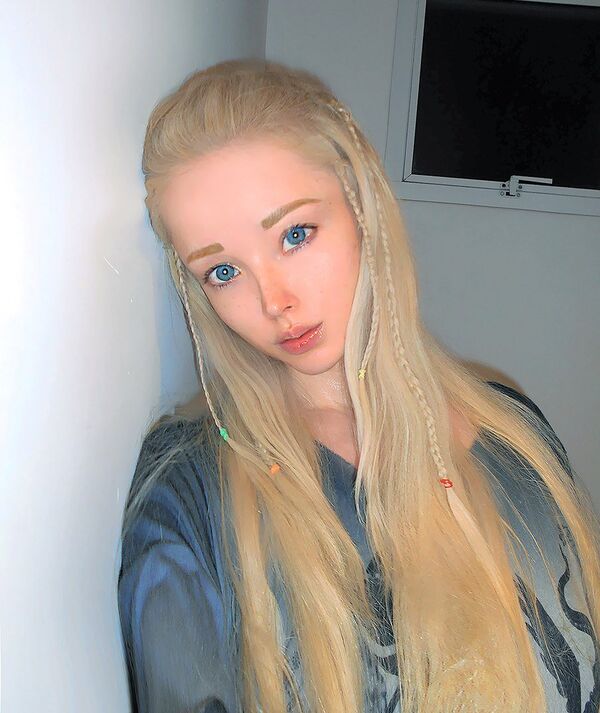 Valeria Lukyanova
© Photo : Valeria Lukyanova
"Once I had a photo shoot in a Barbie-style, and since then people began to call me Barbie," Valeria told Sputnik. She claims her features are free of plastic surgery, except for her breasts. As for her big Barbie eyes, Valeria wears enlarging contact lenses.
However, she doesn't quite appreciate being labeled the Human Barbie.
"In fact, I tried a lot of different styles. Actually, the space image, along with the images of the Atlant girl and the warrior-Amazon are the closest ones to me. To fit the last one, I build my muscles in the gym every day. But people persistently compare me with Barbie, even though I'm too muscle-bound for a doll," Valeria said.
© Photo : Valeria Lukyanova
Valeria Lukyanova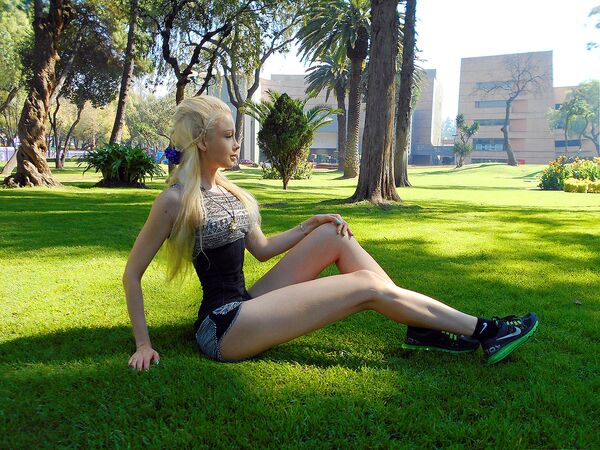 Valeria Lukyanova
© Photo : Valeria Lukyanova
Probably, that is why her beloved one is none of the sweet Kens: "He looks like a Viking and I'm like the Amazon, especially in the swimsuit. Those are the heroes who are pretty much cooler than scrawny and waif-like Barbie," she added with a smile.
Valeria has found a great supporter in her masculine partner: "He tells me that I have appearance of an elven princess or a mystical fairy, and he considers my image beyond time and epoch."
Despite her crazy popularity and a whole legion of fans on social media, Valeria's personality is still wrapped in a shroud of mystery.
"Since I'm a public person, I prefer not to display how old I am — that's why there are a lot of rumors concerning my age, and some of them are quite absurd. The only thing I can say is that I'm not yet 25 years old."
© Photo : Valeria Lukyanova
Valeria Lukyanova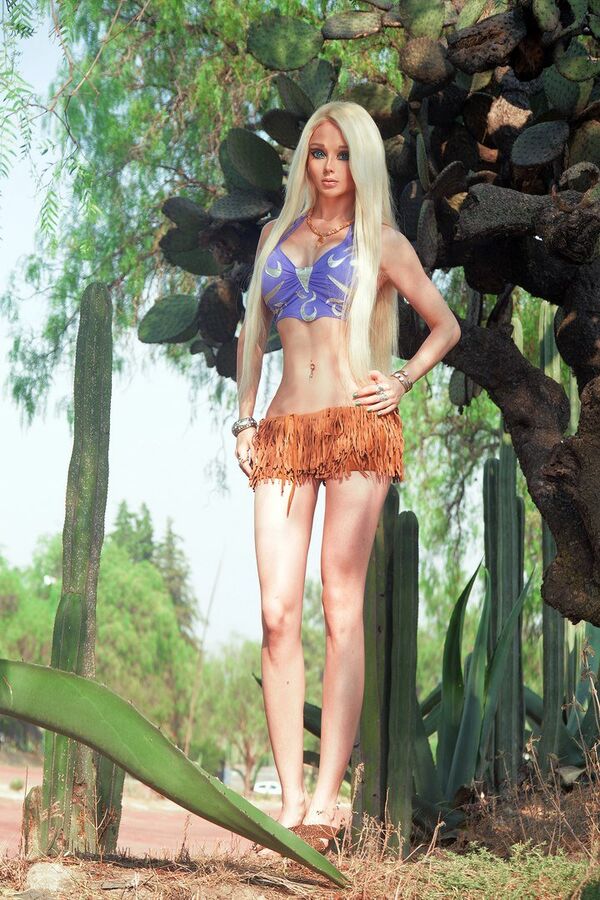 Valeria Lukyanova
© Photo : Valeria Lukyanova
At a height of 172 centimeters and weight of 46 kilos, her body has incredible measurements of 88x50x88 centimeters. And there are no magical diets behind such a thin waist — Valeria considers all of them ineffective. "Instead, I have a constant, hourly planned regime with a proper menu which I compose myself," she said.
Besides following the "we are what we eat" rule, Valeria also pays close attention at her cosmetic products: "I have been making all my skin and hair care cosmetics myself for a long time, and I totally enjoy it! Now that I've gained proper experience, I decided to share my secret beauty recipes with others."
© Photo : Valeria Lukyanova
Valeria Lukyanova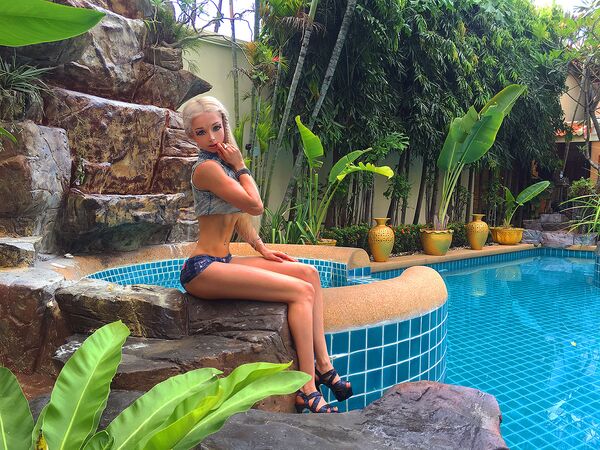 Valeria Lukyanova
© Photo : Valeria Lukyanova
Don't rush to judge Valeria by her external qualities only. She is not just a doll but a woman with a number of talents as a model, a writer, a poet, a singer, a DJ, a lecturer and even a spiritual leader.
"I am a mystic by nature," Valeria said. "For many years I've been studying metaphysics. My spiritual name is Amatue — it is the name of my Higher Self. It is a matter of course to have such names in esoteric circles," she continued.
The young woman has her own esoteric school of spiritual direction — the "Temple of the Infinite Unity."
"That is where I teach people to obtain unnatural abilities, open their third eye and help them to remember their previous lives. My ideology is to help man comprehend himself as a substance of Spirit on his way to Beyond Being, but not just a pile of meat and bones," Valeria claimed.
© Photo : Valeria Lukyanova
Valeria Lukyanova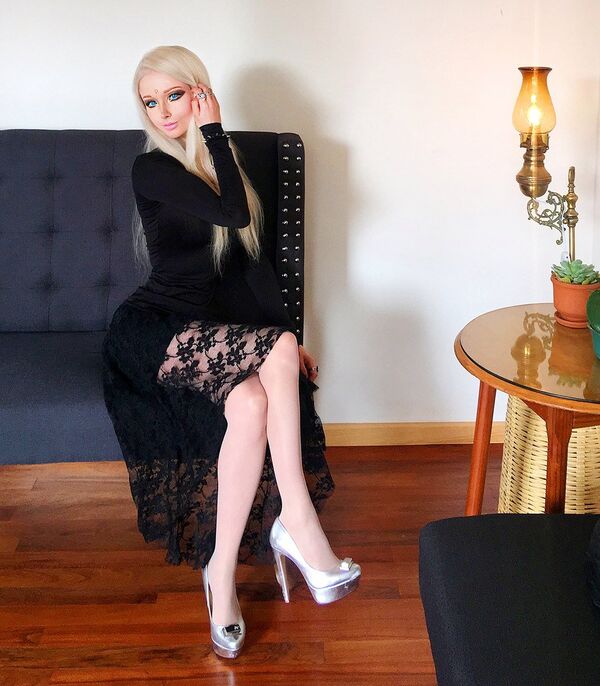 Valeria Lukyanova
© Photo : Valeria Lukyanova
She is a childfree movement follower: "I have chosen a childfree life, because my kids are my disciples. Moreover, I'm basically not adapted to a sedentary lifestyle and motherhood — I constantly travel the world and I'm glad I do not have children," she explained her position.
"Recently, I have created a website with courses on how to be fit and how to establish the balance of body and soul. There I reveal my secrets of thin waist, weight loss and attractiveness. I also hold webinars (online seminars) once a month, where people can learn from me how to look after themselves, get rid of bad habits, stop fearing being themselves and live their own lives."
© Photo : Valeria Lukyanova
Valeria Lukyanova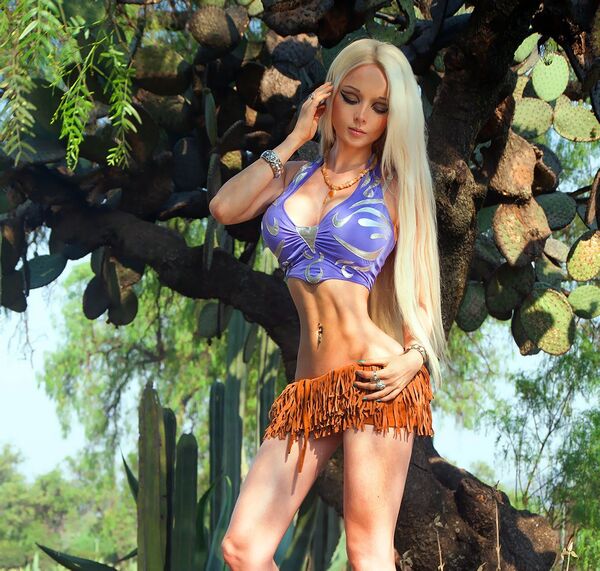 Valeria Lukyanova
© Photo : Valeria Lukyanova
For now, Valeria holds seminars and webinars in Russian language, but soon they will be available for Spanish-speaking people: "I moved to sunny Mexico a year ago, and I've almost finished learning the language. Soon I'll conduct seminars for my Mexican fans that are patiently waiting for a whole year!"
Some of Valeria's seminars are dedicated to extracorporeal travelling, which she claims to have been practicing for years. "I think this is the most exciting thing a human being could experience! I advise everyone to try it!" she said.
According to Valeria, she finds an unlimited source of inspiration during meditation and astral travel. As an academic vocal singer, she performs mostly opera crossovers, but there are also melodious romantic songs, Indian ethnic and even shamanic ones.
"My repertoire consists of more than 150 songs in different languages. Most of them are in Russian, but there are also songs in forgotten ancient languages that come to me during meditations. I bring vibrations of the higher dimensions into this reality through my voice. Sometimes it seems that it's not me composing these songs but the Supreme Beings are leading me to reach people's hearts," she explained.
Most of Valeria's songs, poetry and books are about the meaning of life. One of her recent books, "Who is odd-one-out in the Barbie's house" is dedicated to the other living dolls, some of whom she met personally.
"I've gathered all the famous real-life Barbies and Kens and placed them in different little rooms, according to my discretion. There is all information about them and my personal opinion on them. The book turned quite funny and action-packed!"
© Photo : Valeria Lukyanova
Valeria Lukyanova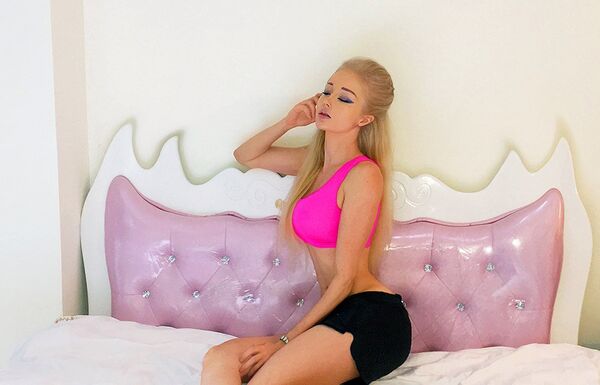 Valeria Lukyanova
© Photo : Valeria Lukyanova
As for being a DJ, Valeria is new to this role, but is already planning her tour across Mexico. "My DJ career is in its very beginning. Nevertheless, there are a few cool tracks that will surprise everyone. My style of music is something new in the world of DJing!"
Interestingly, Valeria was one of the jury at the Face of Beauty international pageant, which took place in Mongolia on September-October 2016.