ANKARA (Sputnik) — On Sunday, Turkish President Recep Tayyip Erdogan said that Prime Minister Binali Yildirim would discuss with Russian officials the possibility to use national currencies in bilateral trade during his visit to Moscow on December 5-6.
"As for the use of national currencies in mutual trade, this issue was raised before. But now, when the rapid growth of the US dollar during the current global crisis, especially after the US elections, has created certain problems both for Russia, and for Turkey in trade, the transition to the use of national currencies would be an important step to help resolve these issues."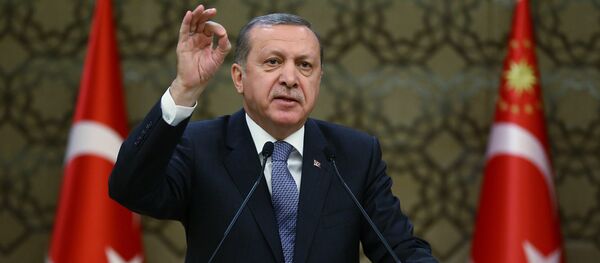 2 December 2016, 13:11 GMT
"A complete transition is barely possible. On the one hand, the alternative to the goods, which have been involved in trade operations once, could be found in other spheres, on the other hand, such a move would need creation of very stable and effective infrastructure by the central banks of the two countries," Recai Berber said.
Berber is currently on a visit to Russia as part of the Turkish delegation headed by Yildirim.
"In order to improve our bilateral ties up to a brand new level, both sides —  Russia and Turkey — are making significant steps in the direction. And the visit of the [Turkish] prime minister to Moscow should be considered as part of this process," Berber said.
He added that trade balance between the two nations was not profitable for Ankara in recent years and expressed hope that the situation would change after the the countries improve their cooperation, especially in such spheres as construction, food and processing industries.