UNITED NATIONS (Sputnik) – According to Dujarric, board members have begun preparing for their Aleppo visit.
"The government finally approved some of the members of the Board of Inquiry to visit Damascus; some board members traveled there over the weekend to meet with the government officials," Dujarric said at a briefing. "The government also approved them to visit Aleppo to be with [the] other officials, but not to visit the site of the attack on the aid convoy."
The board, led by retired Indian army officer Abhijit Guha, is expected to submit its report by year's end.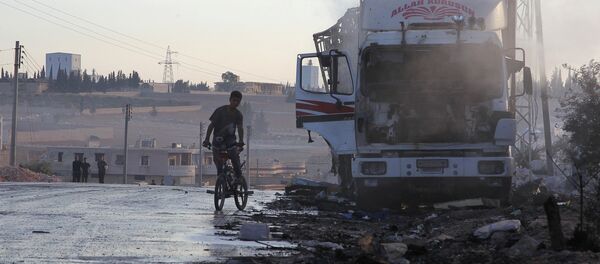 20 September 2016, 13:37 GMT
The internal panel was established by Secretary-General Ban Ki-moon on September 30 to investigate the attacks on an aid convoy operating under the auspices of the United Nations and the Syrian Arab Red Crescent. The trucks were hit by an airstrike as they headed to Syria's Aleppo province.
According to the International Federation of Red Cross and Red Crescent Societies, at least 20 people were killed and 18 of the convoy's 31 trucks were destroyed in Urm al-Kubra.
US military officials have claimed Russia was responsible for the strike, while Moscow has called for the incident to be investigated thoroughly.