BERLIN (Sputnik) — The Western leaders also called for an immediate ceasefire in the Syrian city in order to let the UN deliver humanitarian aid to eastern Aleppo.
"The urgent need now is for an immediate ceasefire to allow the United Nations to get humanitarian assistance to people in eastern Aleppo and to provide humanitarian relief to those who have fled eastern Aleppo. The opposition have agreed the UN's four point plan for Aleppo," the statement said.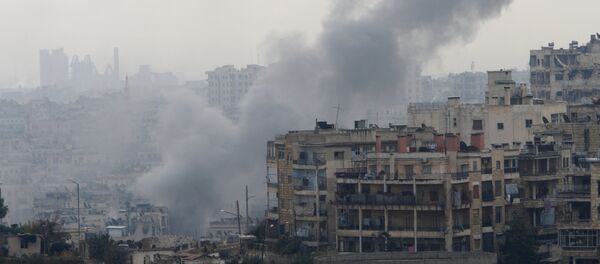 7 December 2016, 11:12 GMT
"The [Syrian President Bashar Assad's] regime needs to agree to the plan too. We call on the Syrian regime to do this urgently to alleviate the dire situation in Aleppo; and call on Russia and Iran to use their influence to help make this happen," it said.
Over the weekend, the Syrian army backed by local militia liberated a number of districts in eastern Aleppo and is leading the offensive further after militants refused to surrender and leave the city peacefully.
Aleppo became major battleground in Syria over recent months, engaging government forces, terrorists and numerous opposition groups. Eastern Aleppo is currently encircled by government troops, and the fighting has affected thousands of civilians still trapped in the city. Previous internationally mediated ceasefires have collapsed as militants continued attacks and opposition failed to expel jihadists from the city.