The new generation of UAVs capable of flying up dozens of meters in the air will allow Russian tanks to scan areas almost 10 kilometers away.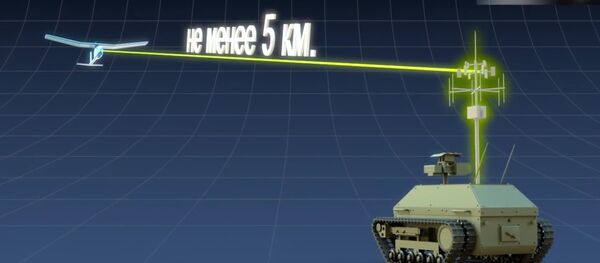 24 November 2016, 11:08 GMT
The Pterodaktyls, attached via cable to Russia's advanced Armata T-14 tanks, will carry thermal night vision gear and radar and will considerably increase the distance at which the tank crews can spot targets.
"Tank operators are unable to see far away and improving their visibility is something our engineers have always tried to do. Conventional drones don't fit the bill because they need to be steered. The new ones are attached to the tank via a cable power and video information goes through and are more efficient," said Nikolai Kim, who is a professor at Moscow's Aviation Institute.
"Each time the tank crew needs additional information, like, for example, when surrounded by the enemy, they send the drone aloft and then to bring it back," Kim explained, adding that the Pterodaktyls can have peaceful applications as well.
"Tethered drones can be deployed at stationary positions where they can spend hours protecting areas where observation towers are hard or impossible to build."
Nikolai Kim said that a new generation of self-contained UAV's capable making their own decisions, were now being developed in Russia.
"In another first, we are going to have several drones working in sync ensuring observation from different angles, diverting, attacking and acting like human beings," Nikolai Kim said.